Fri., Jan. 7, 2022
It's Malibu vs. El Segundo in this SoCal edition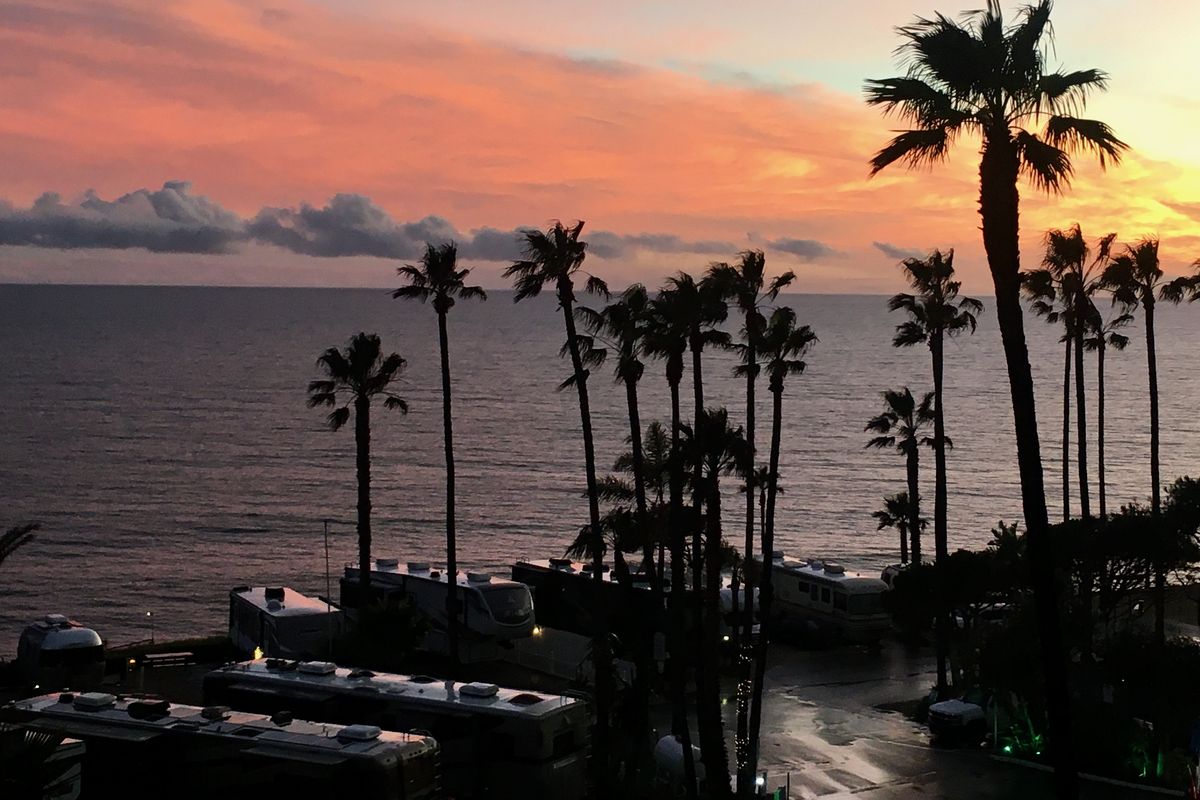 You can't beat the sunset view at Malibu Beach RV Park. (Leslie Kelly)
We've been camping in the Los Angeles area the past few weeks and it's clear that we love the coast best. Whether it's Malibu or the beachfront RV park near LAX, there's so much to appreciate about the two very different southland destinations.
True to the BU: With the coast dominated by McMansions, it's easy to typecast Malibu as a bastion for the rich. And yes, we could never afford an oceanfront home here, which is what makes the million-dollar view at Malibu Beach RV Park all the more appealing.
Here are a few more reasons we keep coming back to this sweet spot:
The Santa Monica Mountains National Recreation Area offers loads of excellent hiking options without the crowds. One day, we scampered along the Backbone Trail for sweeping views of the Pacific to the west and the Goat Buttes to the east. Gorgeous, dramatic and surprisingly wild.
Thrift shopping in Oxnard was a big success. That town is about 45 minutes north on the scenic Pacific Coast Highway, and has an abundance of second-hand haunts, as does Ventura. We picked up a few treasures, including some new/used DVDs for our growing collection.
On the other end of the shopping spectrum, while picking up a holiday gift at a fancy store in Malibu, John ran into actor Anthony Hopkins, presumably doing the same thing. You never know who you might cross paths with in this neighborhood.
Santa Monica is 30 minutes away and Leslie made a couple trips to that city's vibrant farmers market. There's just nothing like California for spectacular produce, even in winter.
And Santa Monica was the site of a family reunion. We met up there with our beloved only child, who's been living in L.A. for years now. It was the highlight of our holiday season.
Down in Dockweiler: A couple of years ago, we discovered the delights of staying at this Los Angeles County Park on the beach in El Segundo. Among the best things about staying at Dockweiler is the outstanding Marvin Braude Bike Path, stretching 22 miles from Will Rogers State Beach near Pacific Palisades to Torrance.
Yes, Dockweiler's skies feature a steady stream of jets taking off and landing from LAX, but if you can get used to that – we did pretty quickly – the location is handy to Manhattan Beach, Hermosa Beach, Marina del Rey and Venice.
And because we have our car to explore the area, we've discovered a few new places, such as the charming old-school downtown in El Segundo – where street parking is free. Imagine that in spendy SoCal! The taproom at El Segundo Brewing was hopping when we stopped in. Good vibes all around.
Winter weather arrives: At both locations, we faced some serious storms. OK, it's not the frigid snow and cold that Spokane faces, but we did have to hunker down inside for a few days while buckets of rain pounded the coast.
We're definitely not complaining, but it's easy to get cabin fever when you can't get outside of a tiny home on wheels. To pass the time, we threw ourselves into chores, organizing our closets and cupboards, tightening up loose door hinges. It feels good to get stuff done.
Now, where'd we put that umbrella anyway?
RV SHOW SEASON IS HERE!
Are you in the market for an RV? Mark two upcoming dates on your calendar: Jan. 13-17, which is the National RV Show at the Spokane Convention Center, and Jan. 20-23 which is the Inland Northwest RV Show at the Spokane County Fair and Expo Center. The first show, sponsored by Clickit RV and The Spokesman-Review, includes manufacturer reps around the country representing more than 20 brands. The second show includes vehicles from six dealers that fill nine buildings at the fairgrounds.
---
---