Fri., Jan. 14, 2022
The pursuit of happiness takes us in different directions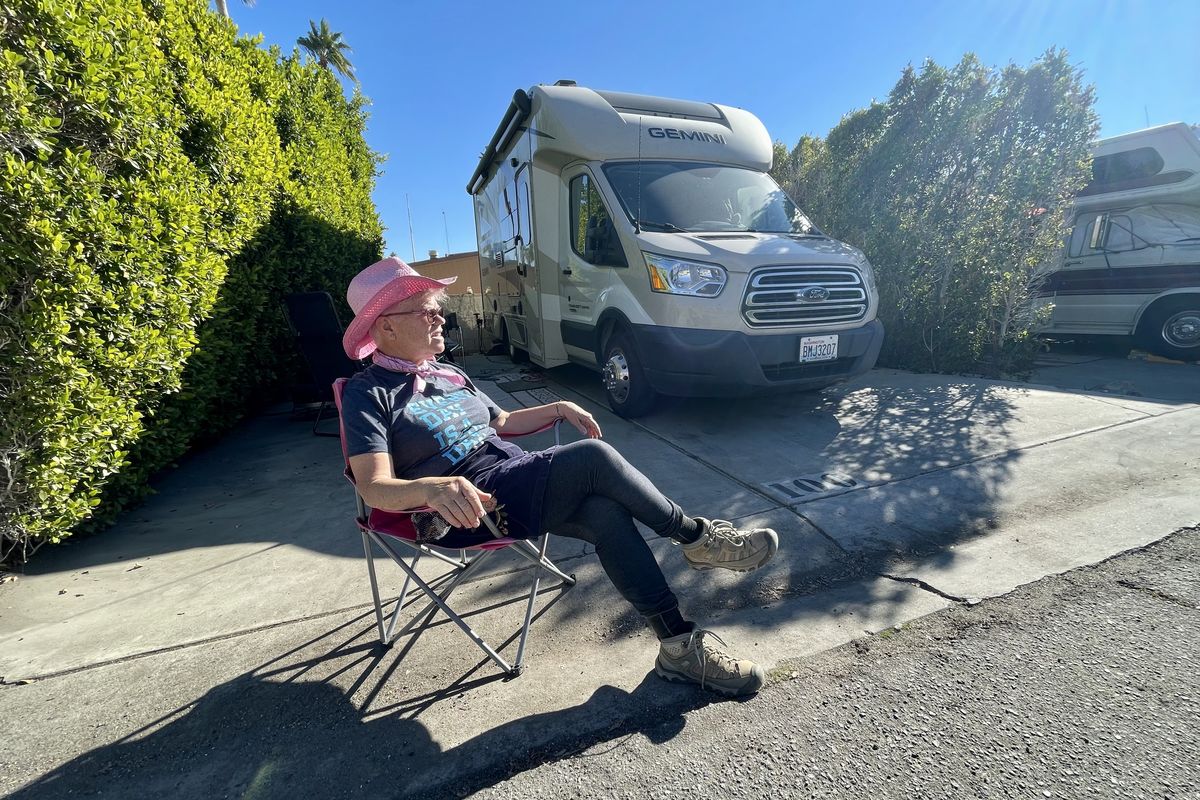 Leslie enjoys the vibe at the Happy Traveler in Palm Springs. (John Nelson)
Sometimes, the mountains are calling and the powder addict in our crew must go.
When the white stuff started piling up around the West, John approached Leslie with a "crazy" idea: How about she goes to Palm Springs while he goes skiing in the Lake Tahoe area? Absolutely said the supportive spouse.
So, while John packed up his winter gear and put together some provisions for the trip, Leslie cooked up her own agenda. She invited a couple of family members to join her for some fun in the sun while John got his ski on.
Both of us had a wonderful week. Here are a few highlights:
When the kiddo co-pilots: Our grownup offspring, who now goes by the name Butter and has been living in Los Angeles for years, excitedly jumped at the chance to head out to the desert with mom. It had been a hot minute since Leslie had driven the Gemini, our 23-foot motorhome, so she welcomed the company in the co-pilot seat to help navigate traffic in Los Angeles.
Fortunately, the freeways were clear on a Sunday and we made it to Palm Springs in record time. We even made a small detour to Morongo, Calif, for a date shake -- something the destination-focused John undoubtedly would have skipped over.
After parking at one of our favorite RV parks, the Happy Traveler, these happy travelers wasted no time hitting the pool. This sweet spot has amazing views of the mountains and nearby palm trees. It felt like coming home to see the familiar faces who park here every winter.
The next morning, we hit the hiking trail early and banged out 7.2 miles on the South Lykken trail. Erstwhile outdoors editor Rich Landers would have been proud of us pushing on even though we weren't exactly sure where we were going. John is usually our guide, but he was racking up the vertical as we had a different kind of thrilling mountain experience. All good, we stumbled out an unconventional path and headed off to lunch and a swim.
Now for some Sissy time: All too soon, Butter was on a Flix bus back to the City of Angels and the very next day, Leslie's sister, Laurel, arrived for a two-day visit. It's been years since they've had some quality one-on-one time and it was truly wonderful.
They got up super early and drove to Joshua Tree National Park for some hiking and a picnic. That incredible landscape looks otherworldly with its signature spiky trees and striking rock formations. Visiting a national park always feels like a tonic, but Joshua Tree is extra special.
After wandering around the thought-provoking Noah Purifoy Outdoor Museum and then taking a relaxing soak at Sam's Family Spa, we headed back to the tiny home on wheels for dinner. Leslie tried a new creation out on her sis. and both were pretty impressed with the cheeseburger enchiladas. (Check our blog for the recipe at spokesman.com/blogs/going-mobile._)
The action-packed week flew by and just like that, John was back "home" after a satisfying ski trip. (Read more about his adventures in an upcoming story on The Spokesman-Review's travel page.)
We're both grateful that we have the Camry along on this chapter of Our Grand Tour so we can pursue happiness, whether it's on steep slopes at Heavenly Valley or doing laps in the pool at the Happy Traveler.
Catch the National RV Show
Head down to the Spokane Convention Center this weekend for the National RV Show, featuring 120 rigs, from fifth wheels to camp trailers. Among the manufacturers featured are Forest River, Winnebago, Thor and Keystone.
Doors open at 9 a.m. Friday and Saturday and 10 a.m. on Sunday and Monday. Admission is free. ClickIt RV and The Spokesman-Review are sponsoring the event.
If you're in the market, it's a good way to see what's out there.
---
---