Fri., July 8, 2022
Five excellent Washington beaches for RV explorers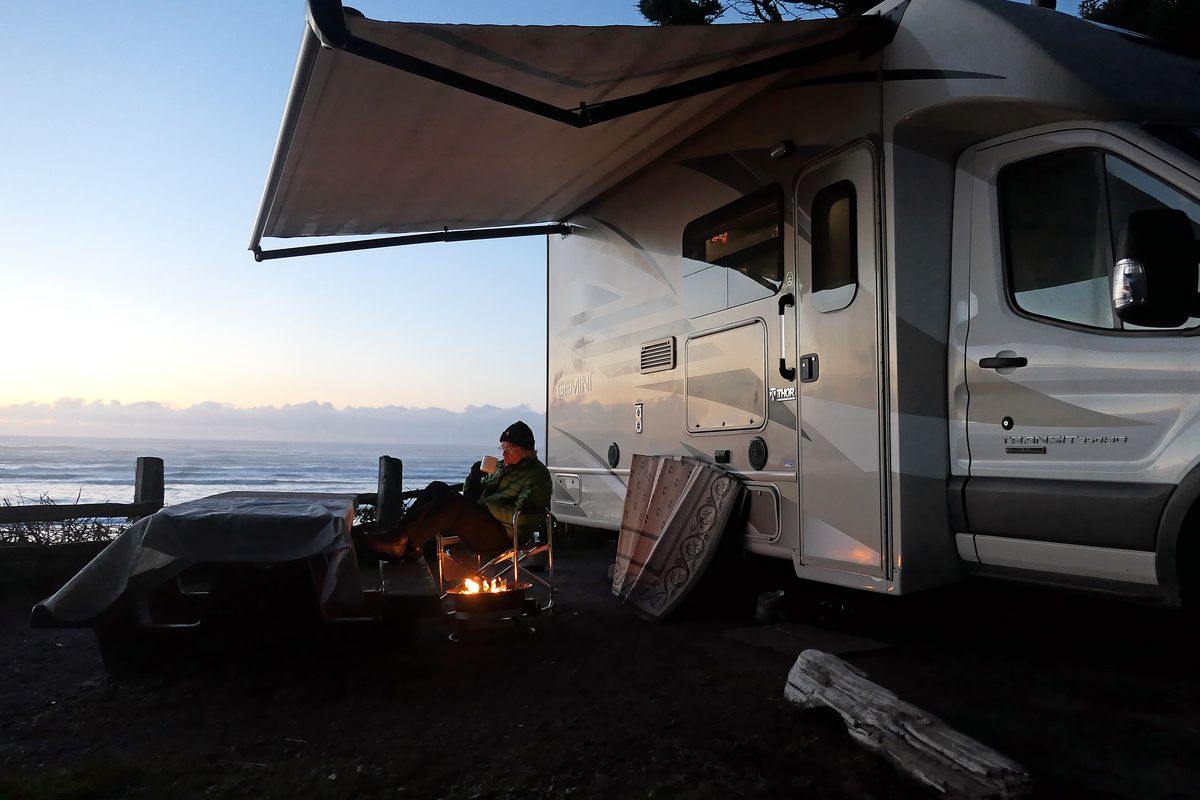 Some campsites at Kalaloch in Olympic National Park offer sweeping views of the rugged Washington Coast. (John Nelson)
Need an RVing day at the beach? Of course you do. Washington's ocean beaches are rugged, raw -- and beautiful. Best of all, they are all excellent destinations for RVers.
With high fuel prices this summer, you might be looking to stay close to home for your next road trip adventure. Here are Washington's five best beaches you can drive to in an RV with camping options nearby.
Benson Beach
The best beach in Southwest Washington is situated inside Cape Disappointment State Park, on the mouth of the Columbia River. It's a two-mile long stretch of pristine sand with a massive state park campground right next to it.
What makes it so good? You can explore the North Jetty, which stretches out on the river's edge into the wild Pacific, with views of the beautiful North Head Lighthouse and the Cape Disappointment Lighthouse. Unlike other beaches in Southwest Washington, cars aren't allowed on Benson Beach, making it feel even more remote. Camp at the state park, or at a number of commercial options in nearby Seaview or Ilwaco.
Kalaloch
On the Olympic Peninsula, Kalaloch's beaches 1, 2, 3, and 4 stretch for nearly seven miles on the wild and rugged coastline.
What makes it so good? The hiking here is amazing, and you'll often find yourself completely alone on these remote beaches. You'll see massive driftwood logs on the beach, which wash up on these stormy shores, and a number of tidepools. As you look out to sea, Destruction Island Lighthouse stands three miles offshore. Camp at Olympic National Park's Kalaloch campground, splurge on a room at Kalaloch Lodge, or stay at nearby South Beach campground.
Hobuck Beach
Situated on the northwest tip of the Olympic Peninsula near Neah Bay, this resort is operated by the Makah Tribe, and is open once again after being closed for two years because of the pandemic.
What makes it so good? This place is so far out on the peninsula you're in another world. Hobuck Beach itself is beautiful, and nearby hikes to Shi Shi Beach and Cape Flattery are unforgettable. RV camping at Hobuck Resort includes full hookups with sites just steps from the ocean.
Salt Creek Recreation Area
Located just west of Port Angeles on the Strait of Juan de Fuca, this under-the-radar spot features incredible tidepools and an excellent camping facility.
What makes it so good? For starters, Salt Creek's campsites are right next to the ocean. The Clallam County facility even offers full hookups. The rocky shores of Salt Creek are particularly beautiful and tidepools are everywhere. This is also one of Washington's best surfing areas. Camp at Salt Creek or at nearby Crescent Beach Resort, which features a long sandy strand perfect for a sunset stroll.
Ebey's Landing
On the west shore of Whidbey Island near the historic town of Coupeville, this stretch of rocky beach faces Admiralty Inlet, the gateway into Puget Sound. Views to the west take in the Olympic Mountains and the Strait of Juan de Fuca.
What makes it so good? One of the best beach hikes in the Pacific Northwest is here. The Bluff Trail takes off from Ebey's Landing Historical Preserve and follows a towering ridge with spectacular views, then descends to a rocky and remote beach for a return hike. Camp nearby at Fort Casey State Park, Fort Ebey State Park or at a number of commercial options on Whidbey Island.
Other Washington faves?
What ocean beaches in Washington do you love? Tell us about your favorites at goingmobile@spokesman.com and we'll include them in the next column.
---
---