Fri., July 22, 2022
Happy to be back in our Bellingham home base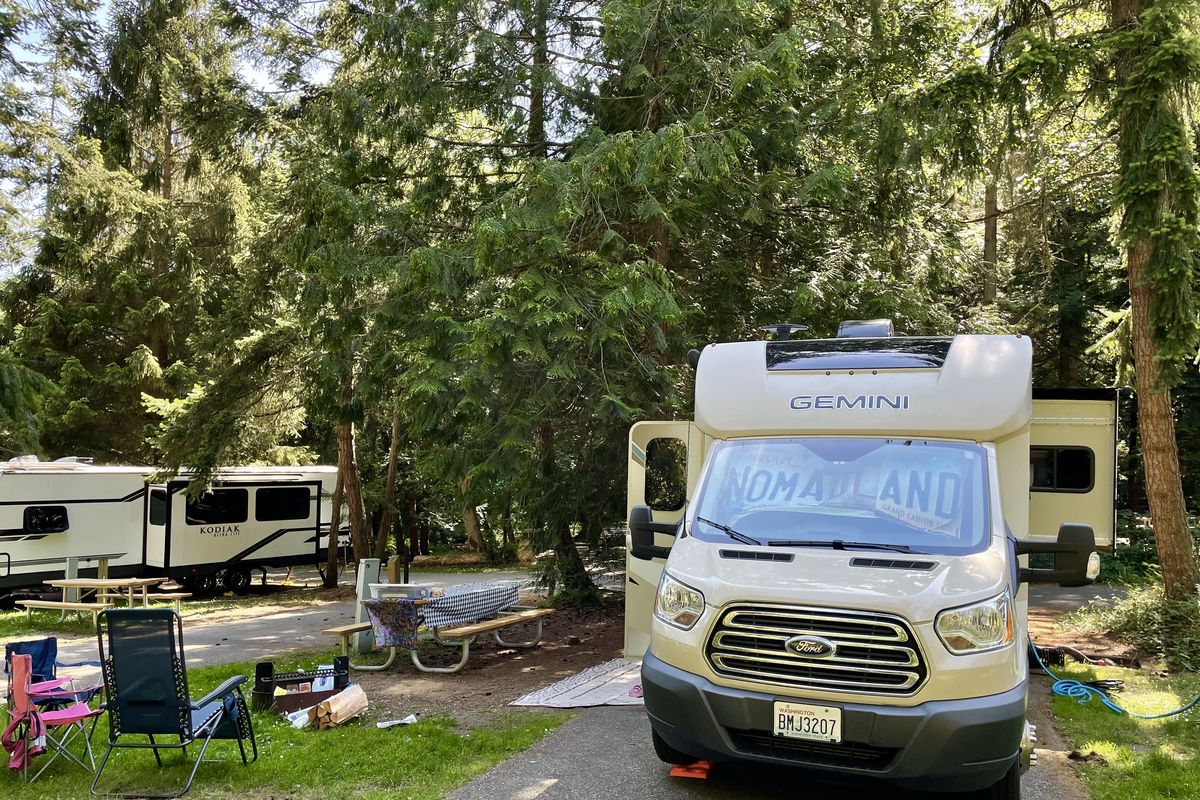 Camping close to home at Larrabee State Park south of Bellingham. (Leslie Kelly)
We thoroughly enjoyed our stints volunteering at the Washington state parks – Spencer Spit in May and Cape Disappointment in June – but it's awfully nice to get back to home base for a bit.
For the past few years, we've called Bellingham our home away from our tiny home on wheels. This relocation from the Seattle area happened at the beginning of the pandemic and now it just seems so right. Here are some of the reasons we feel right at home in the HAM:
We both went to Western – that's where we met! – both studied journalism and it's been cool to return. While wandering the campus, we've noticed what's changed and a whole lot that's stayed the same. We especially appreciate the vast collection of outdoor art, though the groovy steam sculpture doesn't always steam.
The downtown remains a vibrant place, drawing locals and visitors with a Saturday farmers market, lots of fun retail and restaurants to explore. Favorite spots to grab a bite include the venerable breakast-anytime Old Town Cafe, Jack's BBQ, Mount Bakery and Camber for coffee. There are plenty of popular taprooms, but nothing beats Kuhlshan Trackside on a sunny summer afternoon. Trackside is home to a rotating lineup of food trucks, live music and an e-bike rental business.
A robust trail system is a beautiful way to get your steps in. If it's a beach view you're craving, head down to Marina Park, where you're likely to see kayakers and stand up paddle boarders pushing off into some scenery that looks as if it belongs in the bay vista hall of fame. Other scenic walks we like: The Lake Padden loop, Whatcom Falls and the expansive pier in Boulevard Park in Fairhaven. To celebrate the Fourth of July, we jumped off Taylor Dock into the Salish Sea, a refreshing plunge we've taken before and will do again soon. Because, why not?
So good to see y'all: One of our greatest joys on this trip back to Bellingham was a reunion with our dear friends, Ted and Virginia, Zane and Zola, former Spokanites who've been living and working and going to school in Vietnam the past few years. These entertaining expats have generously let us crash at their pad while they're away during the school year, but it's been three years since they've been back to the USA. It was so fun to hang out and celebrate with good meals and conversation. Miss y'all already!
And, of course, we camped: Just south of the city, Larabee State Park remains one of our go-to destinations. This time around, Leslie flew solo for several days while John hit the trail with the guys up at Mount Rainier. Sure, LK missed her better half but there was a long to-do list that kept her busy. Highlights included a hike to Fragrance Lake, reading on the nearby beach and taking a picnic to the sun-drenched boat launch. The sight of kayakers convinced her the Going Mobile team needs one of those watercrafts, stat.
Taking care of business: We're hitting pause on the camping front for just a bit while Leslie recovers from surgery to fix a pesky foot condition called Morton's Neuroma. Down time will be spent dialing in our fall and winter plans, feasting on our streaming services and discussing if and when we should shop for a new rig. We're always asking our fellow travelers for advice. Would love to hear RV shopping suggestions from our readers: goingmobile@spokesman.com.
---
---