Fri., June 3, 2022
Little did we know how much we'd love camp hosting chores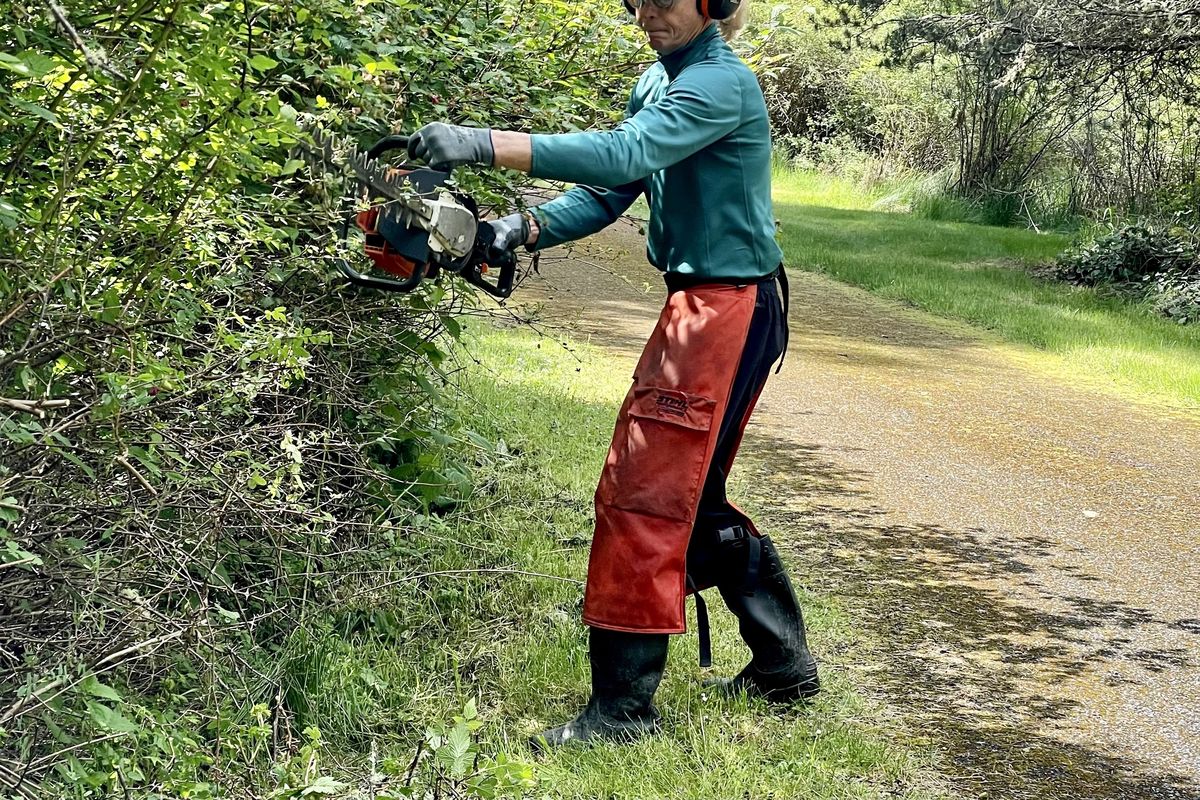 John uses the power trimmer to attack the brush at Spencer Spit State Park (Leslie Kelly)
By the time you read this, we'll be down the road on our next volunteer gig – working in the Lewis and Clark Interpretive Center at Cape Disappointment State Park. But we couldn't leave Spencer Spit State Park without a highlights recap.
We're calling this "A Day in the LIfe," but it really amounts to a compressed romp through some of our favorite moments and proudest accomplishments.
Good morning: The days begin with a campground cleanup, checking for trash, clearing charred wood, wiping off picnic tables. John has become a pruning pro, trimming back thorny bushes and sagging limbs that encroach on trails and campsites. Bravo!
Leslie's gone off on the mission of posting site availability down at the beach spots, picking up plastic on the sand and visiting with campers along the way.
When she comes back up to the workshop area, Leslie might find John and Cindy, our fellow camp host, using the noisy mechanical wood splitter to turn downed trees into the stuff of marshmallow-roasting campfires.
John built one of his famous blazes recently when friends from Spokane came to visit. It was an absolute pleasure to sit around the fire with Dan Webster and Mary Pat Treuthart. We even had a s'mores competition: Old School classics vs. Next Level. Winners all around.
Lunch break: By the time noon rolls around, Leslie's day is done. We're committed to volunteering 28 hours a week between the two of us and John likes to see some of those ongoing projects through. After a quick bite, that might mean refilling the wood box, road cleanup and repair.
One self-starter project suggested by Leslie involved repairing the broken tail of a wooden beaver named Bagley who serves as the Washington State Park mascot. Done and done. It's also a real kick to hand out packets of Junior Ranger material to visiting kiddos.
Chilling: After a busy day, there's nothing like collapsing in the comfy camp chair in the sunshine, but John's having none of that. His off hours are spent biking and paddling around Lopez.
It's been an extra-special experience to glide on the often-glassy waters, checking out the nearby islands and the magnificent coastline. After a decade away from owning a kayak, he's thinking he might need another boat in his life.
Leslie takes full advantage of the down time to explore the island's farm stands. She's been so impressed with the incredible collard greens and tender spinach from Babayaga Farm, beautiful chevre made at Sunnyfield Farm and the fantastic sausage produced at Horse Drawn Farm. She bought locally caught canned smoked salmon at the island's Saturday farmers market, as well as dozens of eggs sold on the side of the road.
At the end of the day, after dinner and cribbage, we usually finish off with a movie and we've borrowed some good ones – as well as a few stinkers – at the Lopez Island Library. One of our all-time faves is one we'd like to live out on this island paradise. That's right, stick us in a recurring loop of "Groundhog's Day." Ha!
Until then, we'll see you at Cape D!
---
---