Fri., June 17, 2022
We're making our own discoveries on Lewis and Clark's trail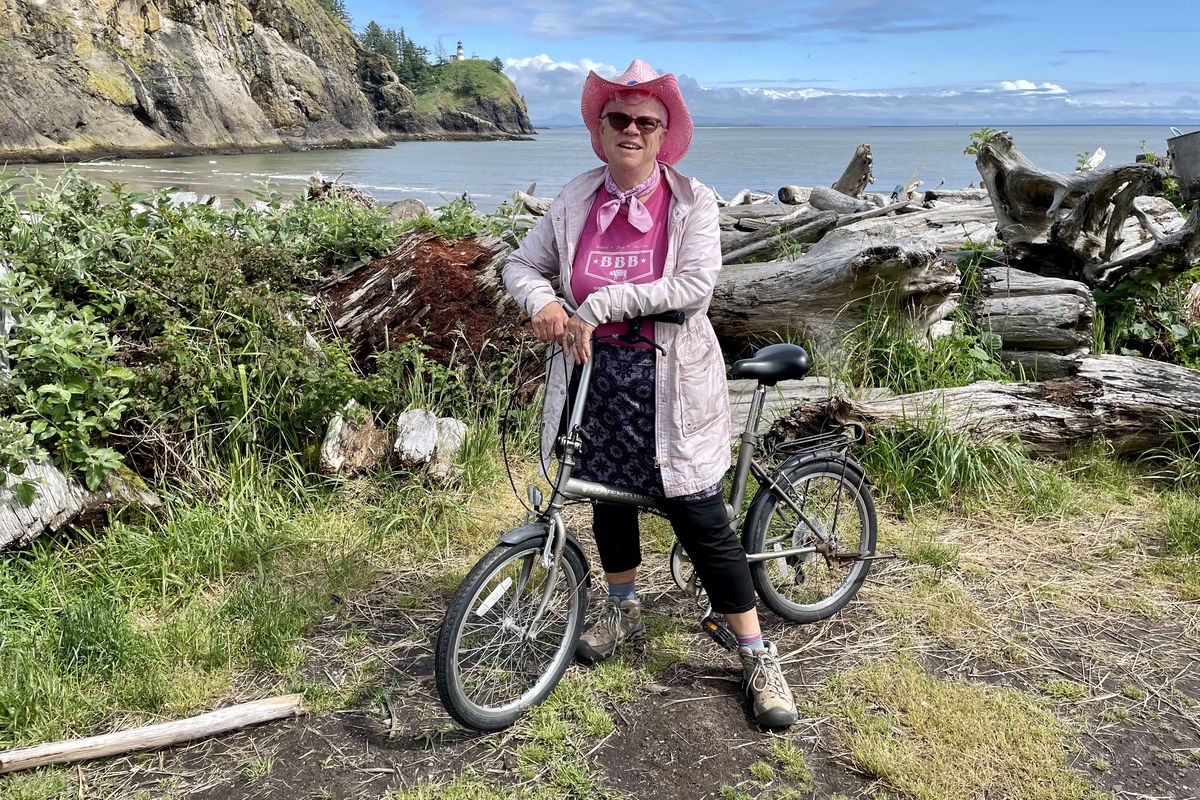 Leslie takes a bike ride near the Cape Disappointment light house. (John Nelson)
There's a little bit of Lewis and Clark in all of us, whether you're paddling a canoe or driving an RV.
It's a leap of faith anytime you go exploring. That lesson is taking on special meaning this month as we volunteer at the Lewis and Clark Interpretive Center at Cape Disappointment State Park.
As state park volunteer gigs go, you couldn't ask for a more compelling assignment. We work as greeters at the interpretive center, telling visitors about the museum's many exhibits and programs.
In return, we're getting a free camping spot at Cape Disappointment, one of the most beautiful and popular parks in Washington. We're just down the road from the Long Beach Peninsula and about a 20-minute drive from the historic town of Astoria, Ore.
RVers know the feeling of heading into the unknown. We arrived at "Cape D" in early June without a clear picture of what to expect, and like Meriwether Lewis and William Clark, we've had a few surprises.
The Lewis and Clark expedition started with a journey up the Missouri River and over the Rocky Mountains to the Pacific Ocean. It was the ultimate leap of faith.
By the time the Corps of Discovery made it to what is now Washington state, they were tired and hungry. They battled horrible fall storms, got stuck in a nasty place called "Dismal Nitch" for more than a week, and finally reached the ocean on what is now the Long Beach Peninsula. But winter was fast approaching, and they needed to find a place to stay.
They voted and decided to spend the winter near present-day Astoria. They hastily built Fort Clatsop and spent four wet months waiting for the weather to get better before returning east in 1806.
We can relate to the wild weather. Since arriving at Cape Disappointment in early June, we've been pummeled with "atmospheric rivers" coming off the ocean. Thank goodness we aren't huddled at Dismal Nitch, and our 21st century motorhome keeps us warm and dry.
But even if we are comparatively comfortable, we are impressed with the dramatic weather at Cape Disappointment. We've seen 60 mph wind gusts, a few downed trees, several inches of rain, and more mud than Jimi Hendrix stirred up at Woodstock.
So it has been nice to work inside at the interpretive center, talking about the audacious adventures of the Corps of Discovery.
One of the best parts of the volunteer job has been to swear in junior rangers who are learning about the Lewis and Clark expedition just as we are. We've worked with children aged 4-14 in Cape Disappointment's special junior ranger program.
We've also learned about York, Clark's slave, who played a huge role in the expedition, and Sacagawea, the Shoshone Indian who stepped in and saved the day as an interpreter.
We've marveled at Clark's many hand-drawn maps, and wondered about why Lewis, a famed explorer and military officer, eventually killed himself after the expedition was over. He was only 35 when he died.
While we love talking with visitors about the Corps of Discovery's many adventures, there's one question we answer more than any other at the front desk.
First, a puzzled look. Then here's that question:
"Where's the bathroom?"
To which we answer, "Down the hall to your left."
---
---