Fri., March 11, 2022
Marina is a hidden gem on Monterey Bay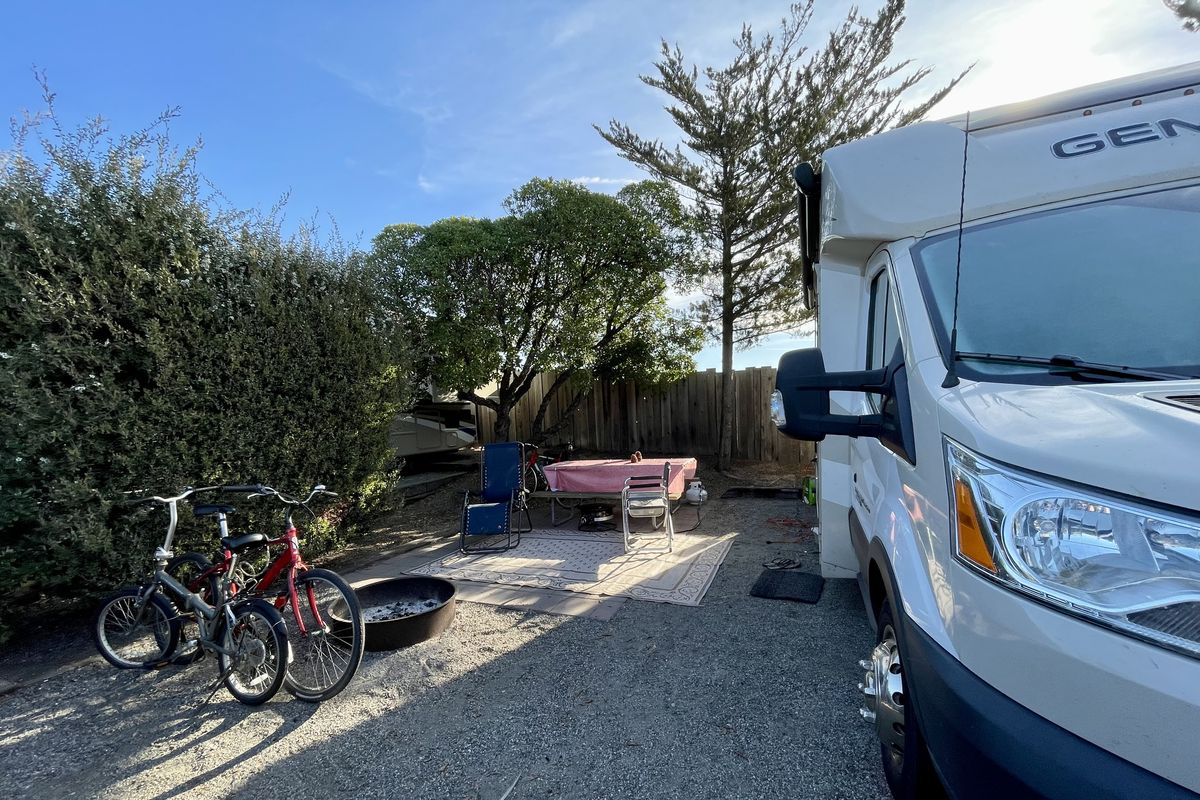 Hedges offer privacy between sites at Marina Dunes RV Park on Monterey Bay. (Leslie Kelly)
Sure, you've heard of Monterey, but what Marina?
This quiet suburb on California's central coast wasn't on our radar until a few years ago when a friend recommended the exceptional RV park near a beautiful state beach. Since then, we've been back several times because we love the chill vibe.
Marina – rightly famous for its impressive dunes – is also close enough to Monterey so you can easily explore that visitor-friendly city's world-class aquarium, historic Cannery Row and knockout waterfront.
Here's what we appreciate about Marina:
Stellar campsite: Marina Dunes – one of the nicest parks we've ever experienced – is ideally located. It's a 15-minute walk to the glorious empty stretch of sand beyond those rolling dunes, which somehow reminds us a little of the Palouse. At Marina Dunes, the sites are large spaces defined by well-established trees and shrubs. The greenery offers privacy and shade from the afternoon sun.
Unexpected amenities include a selection of tent sites and several tiny homes for rent on the property, so RV-less friends and relatives could join you for a getaway. There are also wood-burning campfire rings and a hard-working crew that'll deliver a bundle of wood to you, or fill your propane tanks on request.
Since we last visited, Marina Dunes has expanded its footprint, now offering additional sites that include easy-to-access pull-throughs designed to accommodate the big rigs. The park is now affiliated with Thousand Trails and Encore RV Resorts and can be booked through RVontheGo. (RVontheGo.com)
Cool biking trails nearby: We spent a good bit of time exploring the Monterey Bay Sanctuary Scenic Trail that runs through Fort Ord Dunes State Park. That former Army base shut down in 1994, one of the nation's largest military operations ever to be mothballed.
It became a state park in 1995 and, interestingly, there have been efforts to create a campground that includes RV hookups, but the project stalled when a bid was rejected in 2020. We're rooting for it to eventually go forward! The views along this undeveloped stretch of Monterey Bay are absolutely spectacular.
Fun outings: While John logged some serious miles hiking the beautiful beaches, Leslie got caught up with friends who are looking to relocate to one of the charming communities near Monterey. We swooned over the wonderful sweet and savory treats at Parker-Lusseau Bakery before heading to browse a fancy food store in the neighborhood.
On a recent Sunday, Leslie hit the farmers market in Marina, chatting up growers and producers. It was a special thrill to find ripe strawberries, tasty local honey, super-fresh greens and homemade tamales. She followed that shopping spree up with a stop at QQ Noodles, which serves an excellent bowl of pho.
Dining al fresco by the fire: As we travel north, we're definitely feeling a drop in temps. The sun shines brightly most days, but as soon as it sets, brrrr. As much as we appreciate our Outland Firebowl, it doesn't throw out the kind of heat a roaring blaze creates. And John loves the challenge of chopping wood and building an outdoor fire. We enjoyed a couple of meals by the warming flames, including a fiery Thai shrimp curry, one of our faves for chasing away the chill.
Hard to say goodbye: After a satisfying stay, we agreed Marina has joined our growing list of greatest hits. We're always a little wistful when leaving such a special place, looking in the rearview mirror with a vow to return.
---
---