Fri., March 25, 2022
We're stretching out spring along the West Coast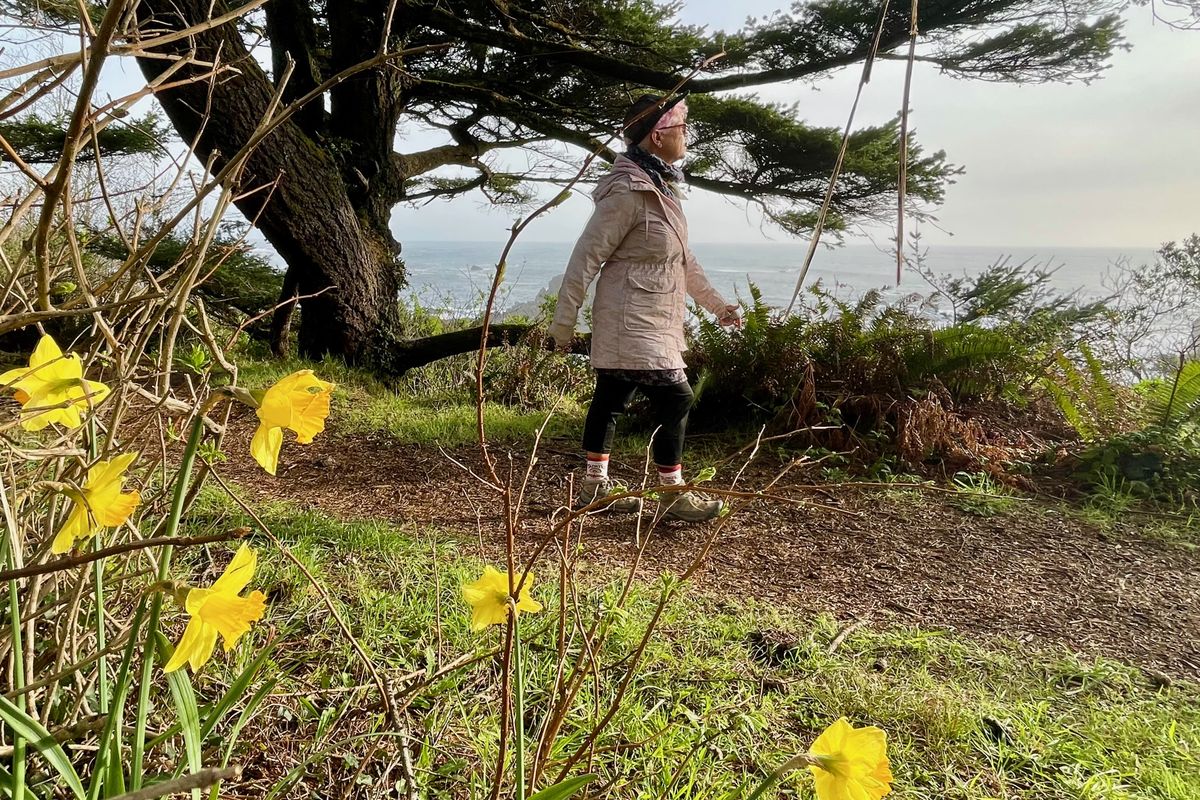 Spring daffodils were blooming at Harris Beach State Park in Brookings, Ore. (John Nelson)
After another chilly Spokane winter, spring's arrival must feel pretty sweet.
We can relate. We spent many winters in the Inland Northwest impatiently waiting for the lilacs to bloom.
Now, spring starts much earlier for us, thanks to the RV life. This year, our "spring" started in the middle of January on the beaches north of San Diego, where it was 70 degrees and the poppies were blooming.
It's one of the greatest gifts of RV travel: The ability to stretch out and prolong a shoulder season. Last fall, when this adventure began, we delayed winter as we traveled south through Utah, Colorado and New Mexico. And this spring, we jump-started the season in California as we headed up the coast.
Now we're closing in on home base, where spring is starting all over again for us.
Our journey has taken us through the West, and for the last month, we've stayed on coast, taking in Northern California and Southern Oregon. Here are some of the highlights:
Mendocino and Fort Bragg: We almost skipped this charmed coast about three hours north of San Francisco. We're so glad we didn't. Off-shore, the gray whales were beginning their trip north as we did the same. While they swam nearby, we enjoyed riding our bikes through Noyo Headlands Park in Fort Bragg, a wonderfully quirky community on the edge of Redwoods country. Shout out to Pomo RV Park and Campground, our comfortable home during the four-day stay.
Redwood State and National Park: We camped off-power in beautiful Prairie Creek Redwoods State Park, hiking and cycling among the tall trees. We made a side trip to Gold Bluffs Beach on California's rugged north coast and suddenly, it felt like we were back in the Pacific Northwest amid a major storm. As the deluge hit, we hunkered down for a full hookup at the Crescent City KOA, then spent a damp day touring the redwoods in Jedediah Smith Redwoods State Park. If you go, don't miss the Stout Grove, where you'll marvel at some of the biggest trees in the park.
Southern Oregon Coast: It's been a couple of years since we visited Harris Beach State Park and Bullards Beach State Park, two excellent state parks in Brookings and Bandon, respectively. When we pulled in, spring was just breaking, and the bright green grass was so vibrant you could practically see it growing amid the daffodils. Both of these locations are fantastic for RVers, reminding us of how good the Oregon State Parks system is. We loved the Samuel H. Boardman State Scenic Corridor near Brookings, arguably the most beautiful section of the Oregon Coast. In Bandon, we hiked the dunes and checked out the historic Coquille River Lighthouse on this section of the often stormy coast.
Finishing strong: We've been on the road for more than six months and this year's version of Our Grand Tour feels like a huge success. Coming home is always nice, and thanks to spring, the journey has been beautiful, filled with wild weather and wildflowers. For our final official campground meal beside a blazing fire, we gave the mission of finishing strong a sweet new meaning: S'mores made with Anna's Swedish Ginger Snaps instead of graham crackers. A new tradition is born!
---
---