Fri., May 6, 2022
Come on baby light that campfire - the right way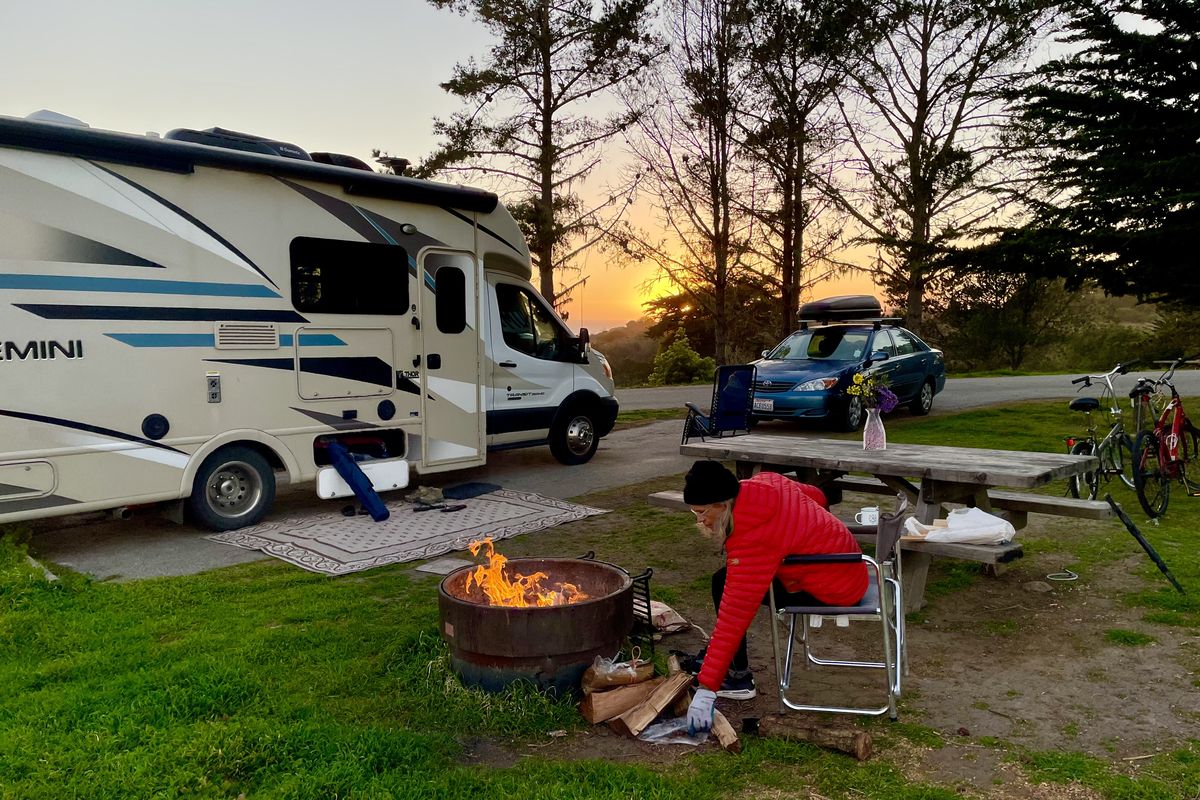 Using kindling, paper and small pieces of wood helps get the campfire going. (Leslie Kelly)
Our neighboring camper at San Simeon State Park in California was going to have a roaring fire -- or at least that was his plan.
He stacked up logs from the $8 bundle, dumped half a container of lighter fluid on them and lit a match.
Whoomph! Instant fire!
Except in a few moments, those logs were smoldering, so in went more lighter fluid, followed by another whoomph, the acrid smell of petrochemicals filling the air. Inevitably, his fire started dying, so he repeated the process until mercifully, he ran out of lighter fluid and gave up.
Don't be that guy.
When you live the RV lifestyle, campfires are essential to creating the outdoor living room. But trust us -- a lot of RV campers are horrible at making fires, resorting to lighter fluid or gasoline when they should be using good old-fashioned kindling and paper.
We're not opposed to fake fires -- heck, we own the excellent Outland Firebowl ourselves, fueled by propane. When we want something quick and easy for a short burst of warmth and light, we turn to the Firebowl, a regular tool in our outdoor-living arsenal.
But sometimes we want a real fire that crackles, roars and throws out some heat. Here are a few of John's tips for building a successful campfire using purchased wood -- usually just one bundle.
Break down those logs
You'll need a hatchet for this.
Most campfire bundles come with several large logs and maybe one or two smaller pieces, meant to be "kindling." They aren't really kindling, so you need to create your own.
Take the logs and carefully begin breaking them down. John likes to split the biggest pieces into small halves, quarters and eighths, piling up a supply of stout pieces.
Take the smallest pieces and set them aside as kindling. Be careful to chop lots and lots of kindling -- more than you think you'll need -- and gather some paper and cardboard.
Build a 'fire house'
In the firepit, take the three biggest logs and create the foundation of your "fire house" in a rough "U" shape. Lean the sides of the U on the piece that makes the bottom of the U, helping create airflow in your fire.
In the middle of the U, place the smallest pieces of kindling along with bits of paper, making sure not to fill up too much of the space. It's best to start small and build.
As you light the fire, take care to keep adding kindling in a lattice style, layer and leaning your pieces against the bigger foundation logs so that air can get in and feed the growing flames. Your goal is to create a bed of coals in the middle of the U shape, adding bigger pieces of kindling as you go.
If you do this right, you should quickly have a roaring lattice burning clean and fast. Add bigger split logs into the mix, taking care to care to allow air to flow in and around the new pieces of wood.
Voila! You've built a successful fire.
We've found that a bundle of wood will burn for about two hours. As you begin to run out of pieces to burn, take the three pieces you started with -- the foundation of the U shape -- and arrange them on top of the pile of coals as the fire slowly burns out.
Questionable wood?
Sometimes, the quality of wood purchased at a state or national park is a bit iffy.
With damp wood, you'll need to get as many small pieces as you can, so get chopping. You'll also need a lot of paper to keep the fire burning.
If you need some extra help, commercial fire starters work well. Or you can make your own fire-starter from any number of things -- including dryer lint or paper towels dipped in cooking oil.
Just promise you'll never resort to gas or lighter fluid -- that's for amateurs.
Now we're cooking: For campfire grilling tips, please check out our online blog: spokesman.com/blogs/going-mobile.
---
---