Fri., May 13, 2022
We're camp hosting on Lopez Island this month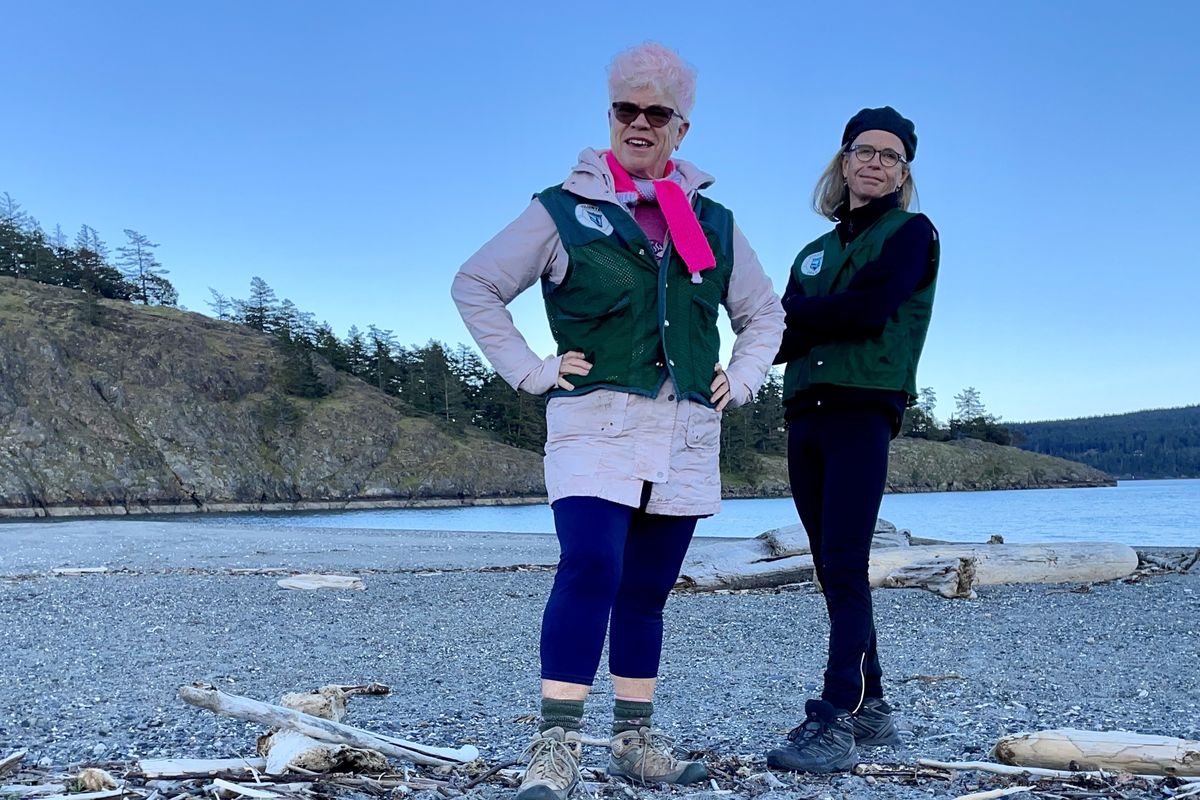 We're spending May at Spencer Spit State Park on Lopez Island, working as camp hosts. (Leslie Kelly)
"Hey, what do you think about volunteering to be camp hosts?" John floated that question in winter 2021 when we were mostly hunkered down at home base in Bellingham.
"I'll consider it," Leslie said. "As long as I don't have to clean bathrooms."
So, here we are more than a year later, on our first assignment at Spencer Spit State Park on Lopez Island and we're wondering what the heck took us so long to get on board this fun and fulfilling path. We're required to put in 28 hours a week between the two of us in exchange for a free place to park the RV. Pretty cool, right?
Getting there: First there were a few hurdles to clear. Washington State Parks Department lays out the expectations on its excellent website: "Hosts in campgrounds greet campers, answer questions, and perform light maintenance particular to the park. This may include litter pick-up, raking campsites, or lawn mowing. Hosts may assist with other projects based on park needs and the skills and interest of the host."
We filled out an application, which included a background check and fingerprinting and we were soon onboarded. But then Leslie ended up in the ER with a nasty case of diverticulitis. Surgery and a long, painful recovery followed. No camp hosting for us.
Fortunately, she finally felt good enough to hit the road in the fall and we thoroughly enjoyed our six months roaming the West. Around the first of the year, we began looking into possible camp hosting opportunities for the coming season.
We'd been to Spencer Spit several times and have always been impressed with its beautiful sites and proximity to the prettiest stretch of beach in the San Juan Islands. So we reached out to the ranger and asked if there were any openings … and here we are for the month of May.
Orientation: Shortly after arriving, we met our fellow camp host. Cyndy, who has been working diligently to clear downed tree limbs and clean campsites in anticipation of the busy summer season. She gave us a tour and talked about her philosophy for keeping the park looking tidy while leaving nature alone. Trimming salal hedges and ferns seems like a never-ending project, but that's OK.
By the end of the first official day, we looked at those campsites in a whole new light. Wow, these are truly magical spots. Cyndy told us to expect fairies and elves and we believed her.
So far the weather's been cold and rainy and we've only seen a few campers come through. Interacting with people, selling wood, answering questions has yet to come. That's Leslie's jam and she can't wait for those conversations.
Exploring the island: During off-hours, we're getting to know this remote and beautiful place. Lopez is known as "The Friendly Island." Folks wave as they drive along the lightly trafficked roads. The vibe is super chill.
John has already connected with Village Cycles, Lopez's excellent bike shop, for a much-needed tuneup. Leslie has scoped out the handful of restaurants and discovered the wonderful Barn Owl Bakery, a spot reminded her a bit of The Grain Shed in the Perry neighborhood. Both spots use landrace grains to make some incredibly flavorful loaves.
Because we're volunteering at the park, we qualify for free library cards while we're here and the library is absolutely beautiful. It has an arts and crafts room, a huge selection of books, CDs and DVDs. There's a pretty fireplace with comfy chairs -- a real gem.
There's only one grocery store, but Lopez Village Market is really nice and the prices aren't as high as we expected. Looking forward to doing a little island hopping to visit the farmers market in Friday Harbor soon.
Looking down the road: It's still early on, but we're enjoying this new adventure. It's even got us thinking about the possibility of signing up as campground hosts in California for next fall. We'll keep you posted. In the meantime, come visit us. We'll be at Spencer Spit State Park for the rest of the month.
---
---