Fri., May 20, 2022
Take a look inside our tiny home on wheels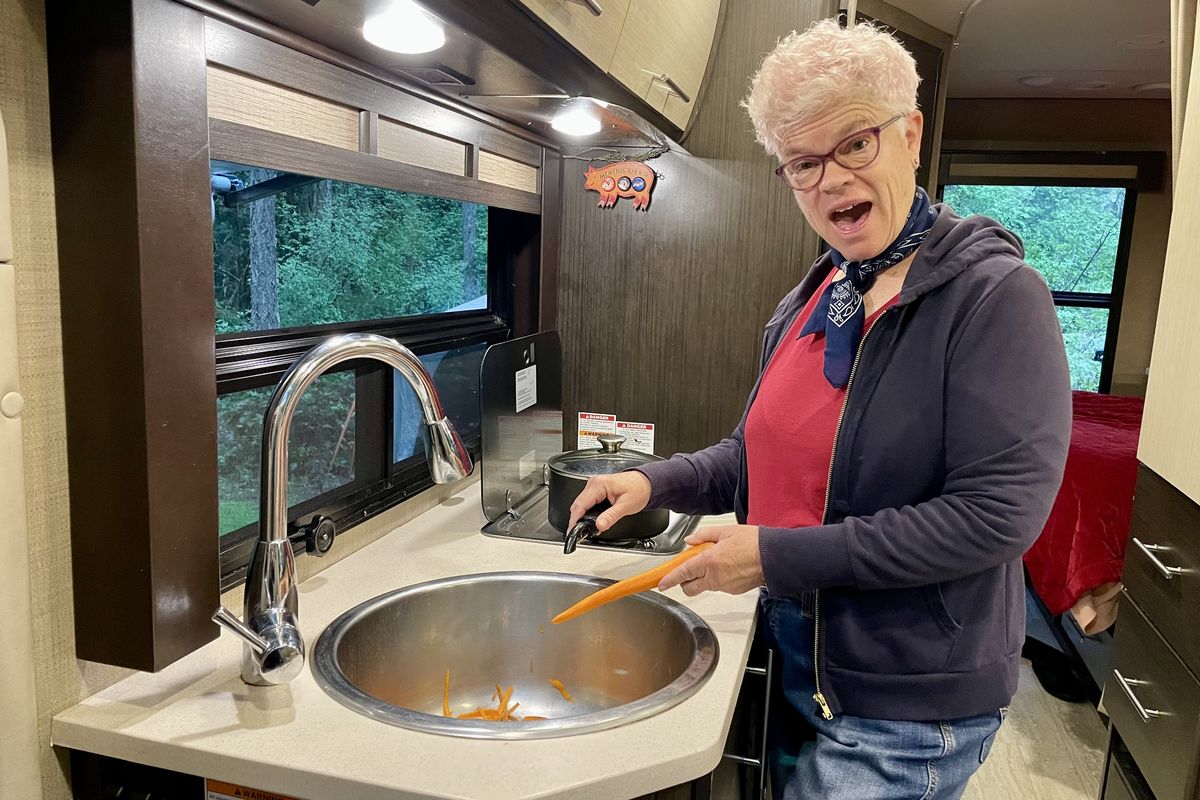 The kitchen area of the Thor Gemini includes a large sink and a two-burner stove. (John Nelson)
Welcome to our home – come on in!
After years of writing about our RV, we realized that we've never taken our dear readers on a deep dive into its cozy confines. We've talked endlessly about the care and maintenance of this sometimes-persnickety rig, but after a friend's gentle nudge to show and tell, we're going to pull back the curtain and show y'all around.
Please leave those muddy hiking boots at the door, OK?
Step inside: The front door of our Thor Gemini is a bit like the command center. Underneath the stairs sits the coach batteries. Wow, are we happy we bought those new Interstate batts back in Pismo Beach. We now hold a charge when off grid. There's also an indicator panel that shows us levels on our holding tanks, propane and just above that a CD/DVD player that works pretty well most of the time.
To the left, above the driver's and passenger seats is a skylight and shelves for storage. In most Class C RVs that space is a bunk bed, but we absolutely love the feeling of openness that skylight brings into our living room/kitchen space. Looking up to see swaying trees, stormy skies or a starry night offers us ever-changing entertainment.
We often admire the view from our couch that turns into a "bed." It's really only big enough to accommodate a kid or a large dog. But that's fine. We love the couch, the site of our nightly cribbage battles. The couch doubles as seating for our dinner table, which is popped into place when needed.
What's cooking: Yes, Leslie has moaned and groaned about the micro-sized kitchen, but somehow she makes it work. She loves the large sink and occasionally puts the cover over it to use as prep space. Otherwise, it's a juggling act. Unless, of course, we're staying in a spot where it's warm enough to set up an outdoor kitchen. We've got that going in our shelter at Spencer Spit State Park on Lopez Island, where we're camp hosting until the end of May.
While the fridge isn't close to full size, it's plenty big enough to store our supplies. Leslie's strategy includes keeping some seafood in the freezer for easy dinner fixes. She's a fan of wild salmon, ahi steaks and, when she can find them, crawfish tails. Hello, gumbo.
The kitchen cupboards hold a surprising amount of stuff, which has been rearranged about a million times. These days, the sweets live on the top shelf and the condiments and olive oil are lower, within easy reach. Plastic bins in a separate space serve as an attempt to keep pantry staples organized. Note the word "attempt."
Bedroom's in the back: One of the things we like best about our 23-foot motorhome is the separation between the living room and the bedroom. It's just a curtain, but sometimes that's enough for grabbing some alone time. Leslie goes to bed earlier and gets up at dawn, so John the night owl can stay up late without ruffling her feathers.
The Murphy bed folds down when the slide-out is fully extended. It's queen-sized and pretty comfy, though we added a foam top to the original mattress to provide some extra padding.
Because our living space is so tight, we make a point of trying to keep everything tidy. We share a closet and each have a couple of drawers and a cupboard above the bed. The rolling roof lifestyle has forced us to downsize in the best possible way.
Sharing a tiny bathroom: We've grown accustomed to showering in a stall that's about the size of an old phone booth. This is the snuggest spot in the RV with a tiny sink, a vanity that has three small shelves and a toilet that's smack in the middle. But there's a door and we're grateful for that measure of privacy.
That's it – our tiny home on wheels. While we occasionally have Class A RV envy, we're pretty darned happy with the setup, especially when looking out the bedroom window and seeing the spectacular scenery.
Check out a video tour on our Instagram feed.
---
---