Fri., Nov. 18, 2022
November brings out the best of the Oregon Coast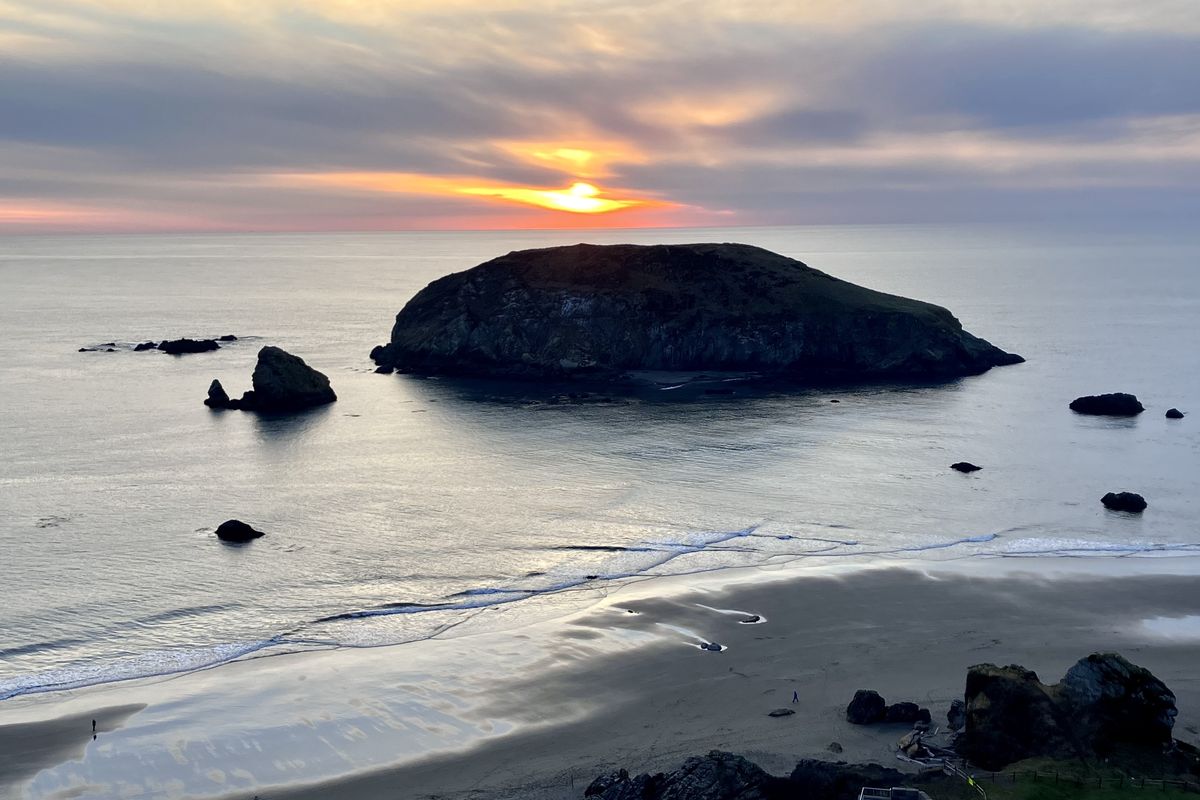 The sun sets over the islands off the coast of Harris Beach State Park near Brookings. (John Nelson)
Here's a pitch for an excellent winter RV escape right in our backyard -- the Oregon Coast.
It's sometimes easy to overlook a gem close to home. Like us, you've probably been there, done that numerous times.
But have you ever seen the Oregon Coast during a big winter storm and the clean-scrubbed days afterwards? John did.
While Leslie was skipping the first week of the Going Mobile migration south (she was traveled to Memphis to "research" a food feature), John spent most of a week exploring the Oregon Coast in our RV, staying at Carl G. Washburne State Park near Florence and Harris Beach State Park near Brookings. Here's his story.
Washburne Beach
As I pull into the parking lot of Fred Meyer in Florence, it's pounding rain and blowing 40. Then the lightning and hail begin, and I find myself white-knuckling it 13 miles to Carl G. Washburne State Park with two inches of slush on the roadway in the 39-degree temps.
But the payoff for a coastal storm is what happens after the front passes. After I finish setting up, the roaring winds fade, the rain slows to a trickle, then stops. As I walk alone on the beach in the blown-out aftermath, I'm giddy from the intoxicating scent of the freshest air I've ever tasted.
Washburne Beach, about 13 miles north of Florence, is one of the most beautiful stretches of the coast, dominated by dramatic Heceta Head. In winter, it's two miles of wide-open beach with nobody in sight.
I spent the next day hiking the six-mile round trip from Washburne's campground to Heceta Head Lighthouse, our all-time fave in Oregon.
Washburne is on one of the loneliest stretches of the Oregon Coast, with little cell service and no retail within miles. That's kind of why I've always loved it since we started coming here as a family 30 years ago. We've returned again and again, but never in the raw beauty of November.
Harris Beach
The drive south to Harris Beach from Washburne takes about 3.5 hours, and it's a chilly, bluebird day. In the sideways November sunshine, 45 degrees feels 20 degrees warmer, or so I tell myself on this beautiful drive.
It's hard to beat Harris Beach State Park as an RV destination. It sits on a scenic bluff above a lovely beach that's just two miles north of bustling Brookings. You're close enough to walk or bike to town and cell service is excellent.
The sun hits my campsite right at 3 p.m., so I quickly hit the beach -- just a short walk from the campground -- and loop around Harris's rocky, rugged coves as the sun slowly slides into the Pacific. It has been a perfect day on the coast.
My favorite hikes near Harris Beach are in Samuel H. Boardman Scenic Corridor. A large section of the Oregon Coast Trail runs along these headlands north of Brookings, taking in dozens of offshore islets and arches.
On my second day at Harris, I bike north to Cape Ferrelo, then explore the cliffs of the cape, eventually putting together a four-mile hike scrambling down to the rocky beach and then back up to the Oregon Coast Trail.
Other faves
Washburne and Harris are just two of the excellent state parks on the Oregon Coast. Other favorites include Newhalem Bay near Manzanita, Beachside State Recreation Site near Waldport, Sunset Bay near Coos Bay and Bullards Beach near Bandon.
Do you have another Oregon State Park favorite on the coast? Send us an email at goingmobile@spokesman.com and we'll include it in the next column.
---
---