Fri., Oct. 7, 2022
Port Townsend is full of ghosts, cinematic and otherwise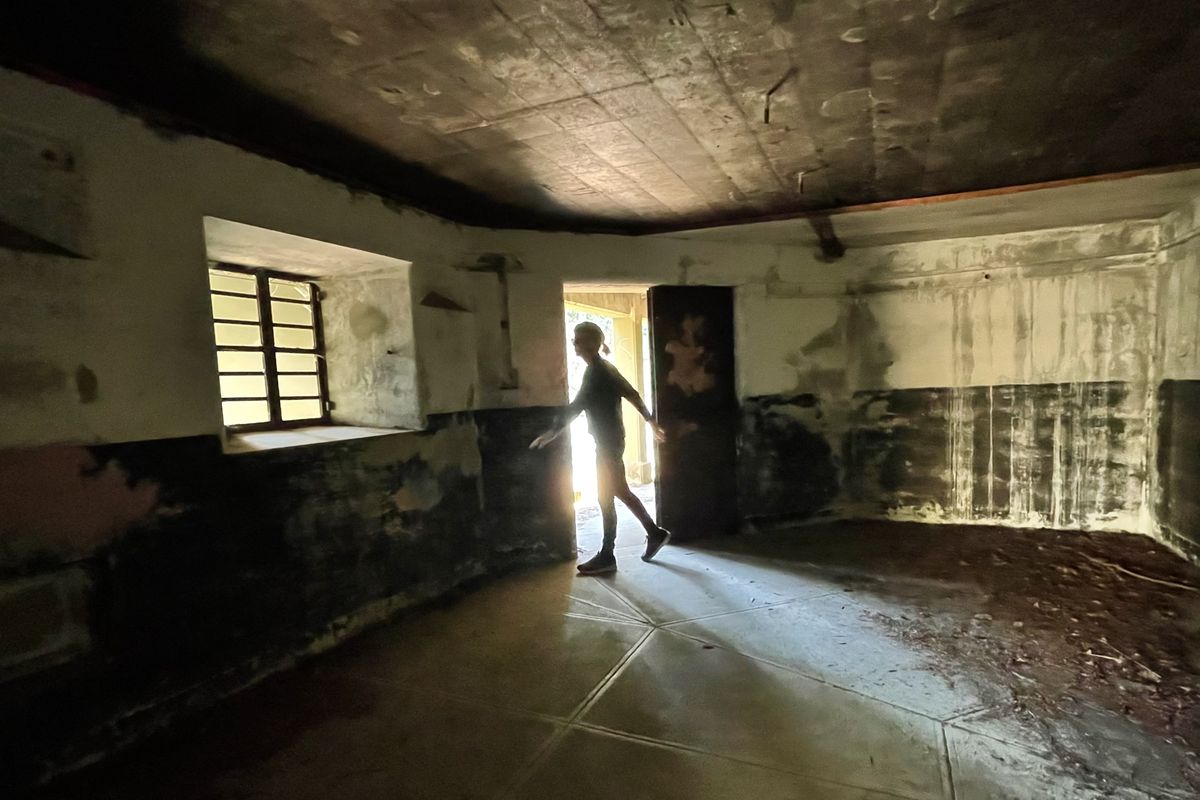 Exploring one of the batteries at Fort Worden Historical State Park. (Leslie Kelly)
October is a ghostly month to visit Port Townsend.
As roaming RVers, we're here for a volunteer job, serving at the Commanding Officer's Quarters museum at Fort Worden Historical State Park. Upon arriving for our new gig, it quickly became apparent that the spirit world is alive and well in the Victorian-era city of Port Townsend.
On our first day volunteering at the park, we ran into some ghost hunters.
"I heard there were spirits here," a woman said as she walked into the museum. "May I bring in some recording equipment?" She carefully walked through the commanding officer's home, built in 1904, hoping to capture some ghostly evidence.
Nothing popped up during her visit, but she and her family didn't mind. They were happy simply to be on a ghost hunt in what is considered Washington's most haunted city.
And make no mistake, Port Townsend is haunted. Washington's first major port was a boomtown in the 1850s, and murders and other mayhem were part general scene in the rough and rowdy settlement.
Ghosts are regularly spotted at several locations downtown, including the venerable Palace Hotel on Water Street. And to celebrate Halloween, the city is promoting its ghostly reputation with a special tour of haunted sites on Oct. 28 and 29 called the "Haunted Histories and Mysteries of Port Townsend."
The grounds of Fort Worden also are said to be haunted. The military installation was built in the early 1900s to protect the entrance to Puget Sound with huge gun emplacements, and the tunnels and bunkers on Artillery Hill overlooking the Salish Sea are definitely spooky. Hikers have reported hearing moans coming from their depths.
"This place gives me the creeps," Leslie said as we toured Battery Ash on the top of the hill. It feels as if you're being watched as you stumble through the dark, dank tunnels.
Another kind of spirit world lives on at Fort Worden -- the spirit of the cinema. The 1982 film "Officer and a Gentleman" was filmed on the grounds of the state park, and fans of the movie will constantly be reminded of certain scenes.
We can't pass the beautiful parade grounds at Fort Worden without remembering Louis Gossett Jr. taunting new recruit Richard Gere: "Stop eye-balling me, boy!" Gossett won an Oscar for his portrayal of the tough gunnery sergeant.
It's interesting for RVers to visit this state park. For all of its military past, the park today feels more like a community center, and its grounds host weddings, family reunions, yoga retreats and even a major music event, the Thing festival. It's a gorgeous place, with sprawling powered campsites on the beach and in the forest near the former military installation.
More than two miles of shoreline can be explored in the park, and miles of trails snake through Artillery Hill offering gorgeous views of Admiralty Inlet, Whidbey Island in the distance.
Outside of the park, the beautiful city of Port Townsend beckons. Leslie was thrilled to have two farmers markets to explore during the first weekend of our stay.
We can see why the ghosts of Port Townsend chose this interesting, scenic place. Why leave?
---
---