Fri., Oct. 14, 2022
Embracing autumn in our tiny kitchen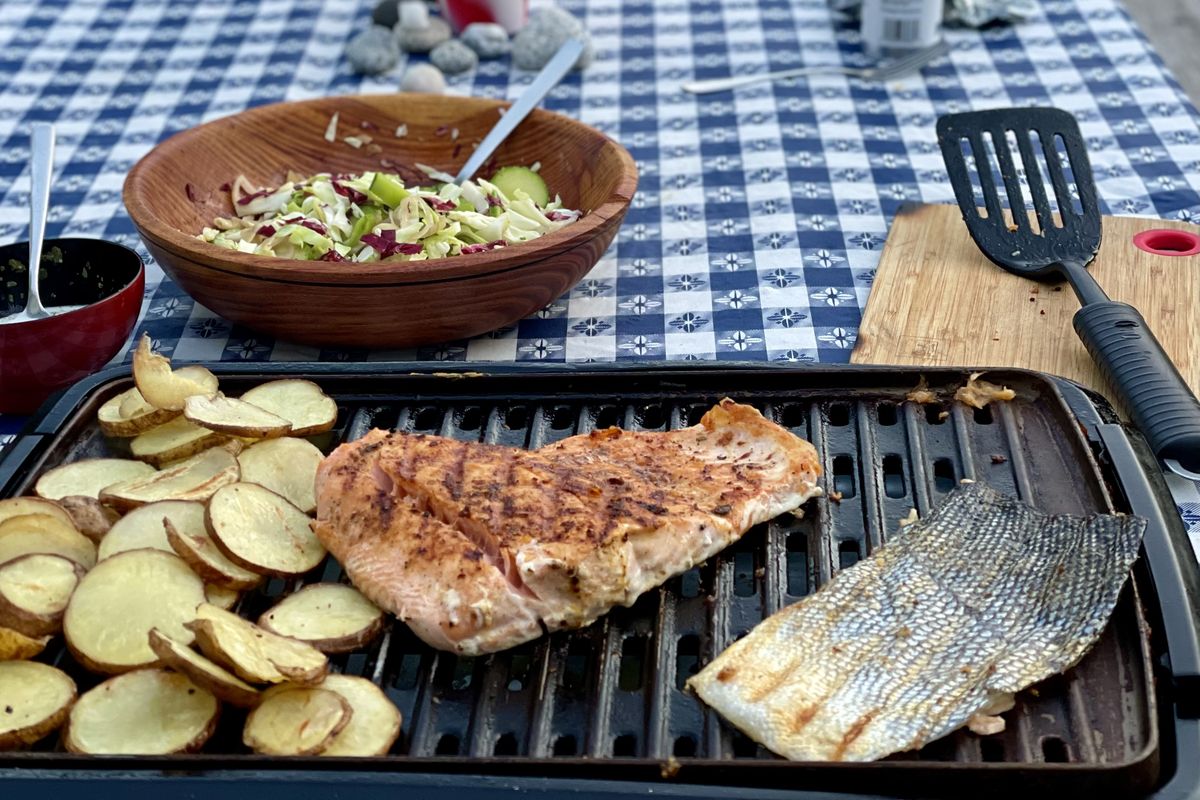 Coho is grilled outdoors along with potatoes for a fall RVing feast. (Leslie Kelly)
We're so ready for the flavors of fall. Let's bring on soup season, get ready to chill with a big steamy bowl of beans and fire up the grill to celebrate the Northwest salmon runs.
Turning the megaphone over to "chef" Leslie for this culinary edition of Going Mobile. If this missive doesn't make you hungry, well… check your pulse.
Good morning! Our daily routine goes something like this: I roll out of bed early, sometimes before sunrise. After making a cup of chai and wolfing down a bowl of yogurt, fruit and granola, I then spend some time consuming news. Yes, of course, we subscribe to the Spokesman, as well as the Washington Post, New York Times, Los Angeles Times and Seattle Times. When John finally rises, he typically ribs me about keeping farmer hours: "Did you check on the cows?" Ha! He's all about coffee as the eye-opener of choice.
On the morning fruit front, we finally finished the frozen Whatcom County blueberries we'd squirreled away, with just-harvested apples now taking center stage.
I recently made a batch of apple butter in the teeny Crockpot we travel with and it's a sweet treat that helps get the day started right. It's such a simple recipe: Chop 6-8 apples – I left the skin on – and add ½ cup sugar, 1 teaspoon cinnamon, 1 teaspoon ginger, and a couple dashes of nutmeg. Let simmer until thick, at least six hours. Yum!
Is it lunch yet? The midday meal is really more of a snack situation, especially when we're working a shift at the Commanding Officers Quarters museum at Fort Worden State Park. Cheese and crackers, wraps, chips and salsa, no big deal. Unless it's a day off and we venture out to lunch. Last week, I met a friend in downtown Port Townsend for Thai takeout. I'm also a big fan of the soup at Hillbottom Pie and look forward to trying the old school fish-and-chips at Sea Jay's.
Dinner is served: We really like sitting down to the evening meal, eating and cooking outdoors as often as weather permits. We haven't needed to take cover while searing coho salmon, roasting Delicata squash, toasting bread from a local bakery and tossing a salad with sweet cherry tomatoes from a neighborhood farm stand.
My tip for keeping salmon from sticking? Season the filet and then spread a little mayo on top of the flesh side. It disappears in the cooking process and adds a golden crust..
On a recent weeknight, I satisfied a burger craving, seasoning the patty with a special spice blend created by Los Angeles-based burger king Alvin Cailan. The host of the hilarious Burger Show – you've gotta watch the Marshawn Lynch episode – worked with Spokane's own Spiceology on a lineup of seasonings meant to take burgers, fries and chicken to incredibly delicious places. Well done! And in keeping with the SoCal vibe, we took our burgers to the beach for a sunset picnic.
The big finale: We typically get our final course on after the nightly cribbage battle. (John's got a big lead in the fall season -- for now.) Our go-to treats involve some Theo chocolate or Tate's cookies, but lately, I've added a quickie "cheesecake" to the rotation. Shout out to a recent Golden Girls binge for inspiration. My version involves mixing some lemon curd into goat cheese, adding a little plain yogurt. Just enough to make it creamy. Serve with graham crackers, preferably Trader Joe's cinnamon sugar version. So good.
Yes, one of these days I'm going to commit some of these easy-to-make dishes to some kind of collection. Maybe I'll call it Rolling Roof Recipes!
---
---