Fri., Sept. 2, 2022
A new e-bike joins our cycling arsenal and an old friend retires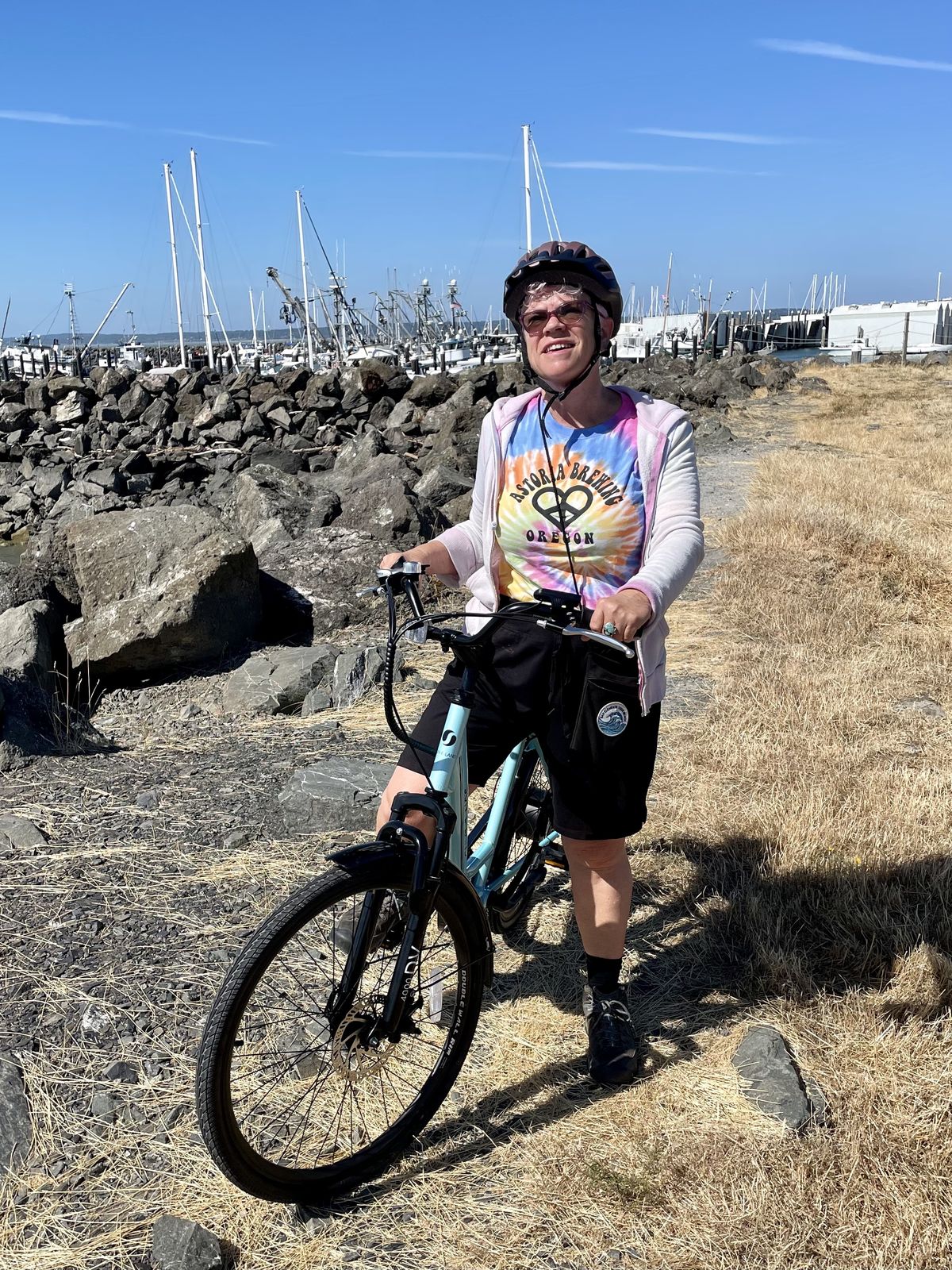 Leslie on her new e-bike on the waterfront in Bellingham. (John Nelson)
Our RV is the most important member of our Going Mobile transpo team, but today we want to delve into an increasingly important partner -- aka, our bikes.
We recently made an important upgrade on the biking front that's sure to have a huge impact when we hit the road this fall. Leslie's got a new e-bike.
More on that recent purchase in a minute. First, let's take a moment to delve into our biking evolution.
When we first started RVing in 2018, the bike was an afterthought.
That first year, we added a ladder-mounted bike rack to the back of our Thor Gemini motorhome and hauled around John's beloved Kona Cinder Cone mountain bike, purchased way back in the early 2000s in Coeur d'Alene.
The Kona served as a way to get around when we were parked and camping, and John frequently used it for store runs and exploring.
When we traveled to the East Coast in 2019, we added a bike for Leslie: a small folding model that would become Leslie's way to get around when we were parked.
It was a good partnership -- for a while. Thieves had other ideas.
During a summer trip to Victoria in 2019, Leslie's bike was stolen. Then in 2020, while we were visiting Phoenix to see the Seattle Mariners at spring training, John's Kona was swiped.
As newby RVers, we were learning the hard lessons of the road.
Eventually Leslie found another folding bike for cheap -- a model a family friend was selling for 100 bucks. She's been riding that little cruiser happily for two years, and it has slowly deteriorated to the point where we needed to either rebuild or replace it.
Meanwhile, John picked up a "temporary" replacement bike for the Kona while we were visiting the Grand Canyon in 2020 from a bike-rental vendor on the South Rim. That junker cost just $80, and he figured it would last a few months until he could get something better.
Surprise, surprise, that junker -- he named it GC for "Grand Canyon" -- has been a stellar friend for the last two years. Because it's a beater, it's not a theft risk, and it still works surprisingly well.
But John, being a bit of a bike snob, also wanted a better bike for longer rides, so during our last year on the road, he also brought along his higher-end road bike.
If you're keeping count, that's three bikes we hauled around last year. We also brought our passenger car, driven separately as a "chase vehicle." It felt like we had quite a convoy of transpo options as we traveled the West.
Which brings us to this year.
Over the summer, as we watched fuel prices rise, we decided to leave the trailing car home this fall. That downsizing on the road means our bikes are going to be even more important when we're parked and camping.
So for Leslie, we just made an important upgrade in the form of a new e-bike from a Bellingham company called Sun-E-Land Bikes. After trying out several models -- including a high-end $3,000-plus model from Kona -- she opted for the affordable $920 City Cruiser from Sun-E-Land.
Meanwhile, because we aren't bringing our car this year to haul another bike, John needs to downsize his biking flotilla. In other words, good old GC is retiring and the road bike will do all the heavy lifting.
As we look forward to our fall adventure, it's satisfying to go back to a simpler game plan. One vehicle and two bikes seems like the right fit. Now, to find that perfect lock and bike rack for the hitch…
---
---