In or out of the RV, Whidbey Island delivers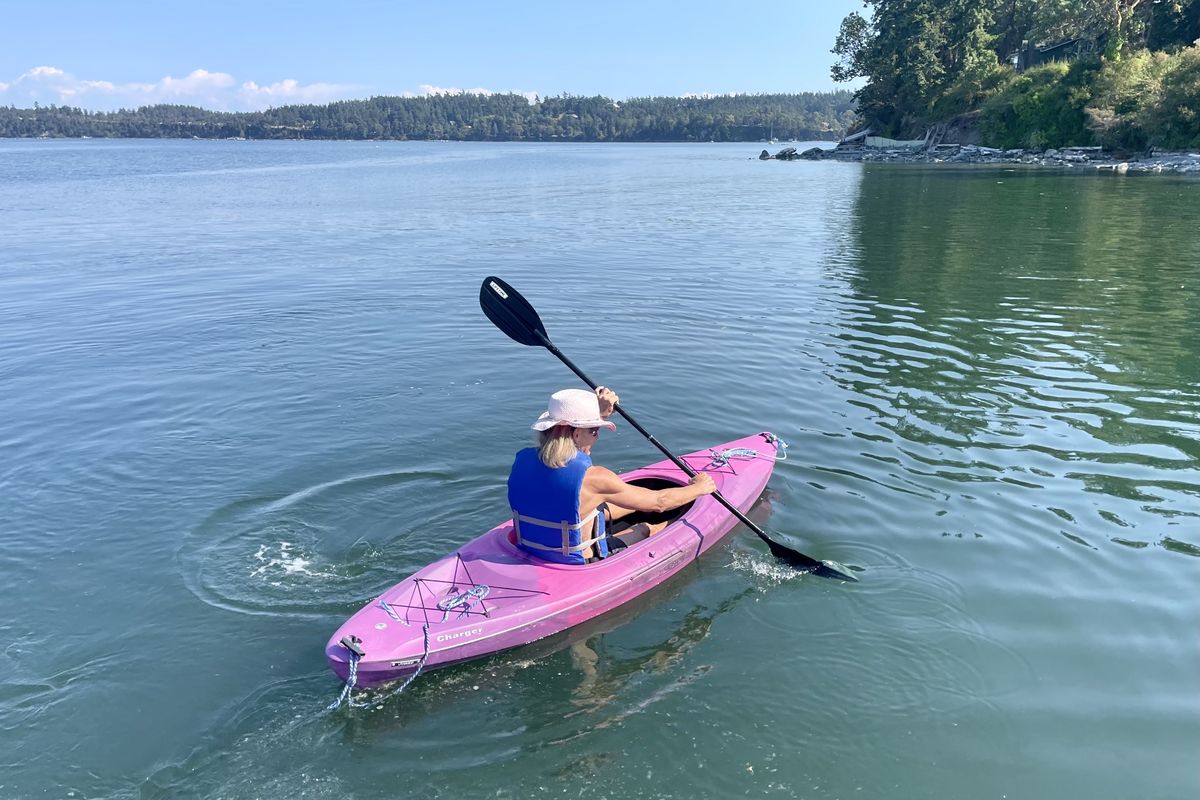 In the RV or not, Whidbey Island is one of our favorite places to visit.
We've stayed on Whidbey many times in our RV and had special experiences at the island's fine state parks. But for our most recent visit, we left the RV at home and rediscovered just how wonderful the island is.
Only a short distance from Seattle, Whidbey Island is a world away from the overheated frenzy of the city.
For instance, take Treehouse Whidbey, our exceptional lodging on the island's south end for one night. We were just 20 miles from downtown Seattle as the crow flies, but high in our treehouse loft, we were surrounded by a pristine forest, the cedars and doug firs swaying in the summer breeze.
It gets better.
While staying at Treehouse Whidbey, we had one of the best meals of our lives at Orchard Kitchen, a real-deal farm-to-fork dining experience near Langley. The multi-course meal made by chef-owner Vincent Natress and team was mind-blowing, from fresh albacore tuna to savory island lamb.
We also spent a day near historic Coupeville, geographically in the middle of the 55-mile-long island.
What do you do in Coupeville? Eat mussels of course. The Penn Cove Shellfish farm is located near town, offering the best mussels and clams on the planet.
At Toby's, the funky-cool waterfront tavern in Coupeville, Leslie had a steaming bowl of mussel chowder, filled with the taste of Penn Cove bivalves harvested from shimmering waters just outside.
Earlier, John had paddled those same waters while we were staying at the Captain Whidbey Inn, the island's most charming lodge. It's old-school in the best possible way, with beautiful, sprawling grounds and an excellent restaurant of its own. We had more mussels there, of course, along with salmon for Leslie and a steak for John.
The island's other major city is Oak Harbor, near Whidbey Island Naval Air Station. Yes, you will hear the sounds of jet traffic if you spend any time in Oak Harbor, but we focused on getting a morning treat at Chris' Bakery, where a steady stream of regulars files in for the exceptional donuts. John ordered a maple bar with bacon bits and another cuppa -- the perfect snack before heading out to hike The Bluff Trail at Ebey's Landing National Historical Reserve.
Turns out you don't need the RV to have fun on Whidbey Island. But for confirmed RVers, we can also speak highly about the camping options on the island.
Three state parks offer overnight camping on Whidbey. Deception Pass State Park is the biggest, perched on the island's northern tip. The hiking is fantastic at Deception Pass, where 77,000 feet of Salish Sea shoreline is waiting to be explored. But you don't need to be a big hiker to enjoy Deception Pass -- one of our favorite things to do there is to simply hang out on North Beach and watch the rushing waters of the pass roar in and out with the tides.
Down island near Coupeville, you also have Fort Ebey and Fort Casey state parks, both offering extensive beaches and views west along Admiralty Inlet. We've stayed at Fort Casey several times and enjoyed exploring the grounds of the picturesque park, once a major U.S. defense fortification guarding Puget Sound.
Late summer and fall are wonderful times to visit. The island's art scene is extensive, farm stands and local markets are everywhere. The island's chill vibe makes it seem like you're not near bustling Seattle, whether you stay in an RV or a treehouse.
---
---