Fri., Sept. 23, 2022
We're gearing up for our next big trip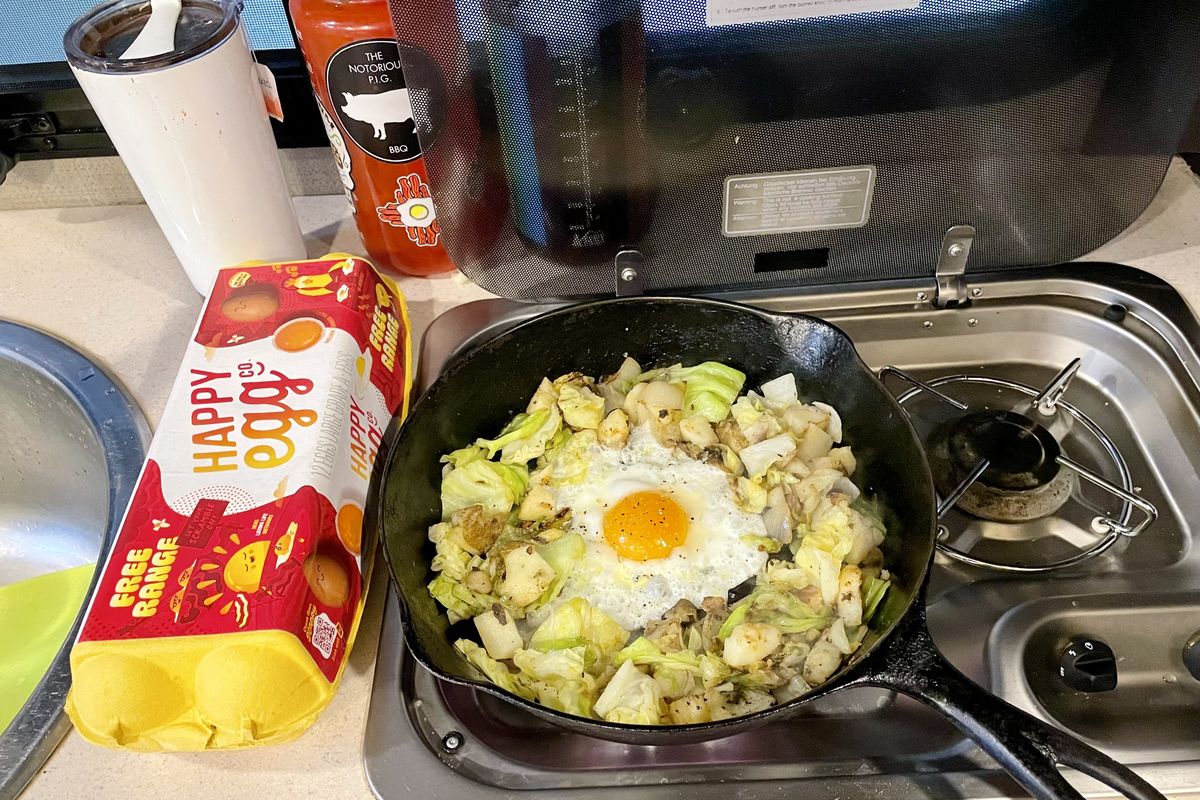 The cast-iron skillet is one of the most valuable players in our food preparation. (Leslie Kelly)
You'd think after four years of living the RV dream, we'd have our packing-up process dialed in. Yet every trip, we learn new lessons about what's essential and what's better left behind.
Here's the gear we know we need for a smooth journey:
In the kitchen, clear plastic bins make organizing the pantry easier. Leslie's also fond of using empty six-pack containers to corral bottles of olive oil, hot sauce and vinegar. Melamine plates and bowls have replaced breakable dinnerware and cooking tools have been pared down to a spatula, tongs, a vegetable peeler and bowl scraper, plus a pastry brush for basting and a couple of sharp knives. We just added a new member to the team: a cutting board shaped like Washington state. That beautiful bamboo surface that reminds us of home will double as a serving plate for cheese and crackers and charcuterie.
A cast iron skillet, a medium saucepan and a mini Crockpot are all that remains of the barebones cookware. Oh, and that reminds us: time to change the batteries in the smoke detectors, which Leslie sets off regularly in her high heat cooking style. Those batts also keep our headlamps, flashlights and twinkly lights going strong.
We recently upgraded our electric kettle – the Cuisinart is quick – and ditched a fancy French press pot that took up too much space, especially considering John's now a confirmed pour-over coffee lover. That sleek setup includes a small cone, filters and a large, insulated mug.
An office organizer that hangs off the back of the passenger seat has been restocked with sharpies and pens, envelopes, postage stamps and assorted cards so we don't miss anybody's birthday while we're out exploring.
Outdoor storage is limited, but we've done our best to maximize the room. A couple of chairs and a weatherproof rug are loaded into a slim bin, our trekking poles are tucked into that tight squeeze. The extra table is staying home this time, as is the bulky screen house.
Another outdoor bin contains a table covering, battery-powered lanterns and our trusty electric grill, as well as an extension cord, the power cord and hose. The Outland Firebowl travels inside while the small propane tank that keeps the flames fired up is in another outdoor bin.
Our toolbox includes several must-have items. We have screwdrivers, pliers, vice-grips, wrenches, a hammer and hardware to fix broken cabinets -- things like extra screws and latches. We also carry around an ample supply of the ultimate fix-it tool: Duct tape.
This time around, we're leaving our trailing car behind after adding an ebike for Leslie. That meant adding a hefty bike rack that attaches to the hitch in the back. So far, we're very happy with the Kuat, which we purchased at Fanatik Bike Co., in Bellingham. It's solid and steady, folding up against the rig when not in use.
Our teeny bathroom has a couple of cabinets that are loaded with the usual suspects: TP, a first aid kit and toiletries, but also laundry detergent and dryer sheets. A small magnifying mirror that adheres to the regular mirror is a big help, as is the motion detector night light. And when the temps dip, we are forever grateful to the tiny space heater that keeps that space toasty.
Finally, we're taking full advantage of the space under the couch to store additional dry goods like canned tomatoes, pasta and seasonings. They're right next to the owner's manual for our Thor Gemini, which gets pretty regular readings.
---
---