Fri., Feb. 10, 2023
A quick trip back to the Northwest reunites the team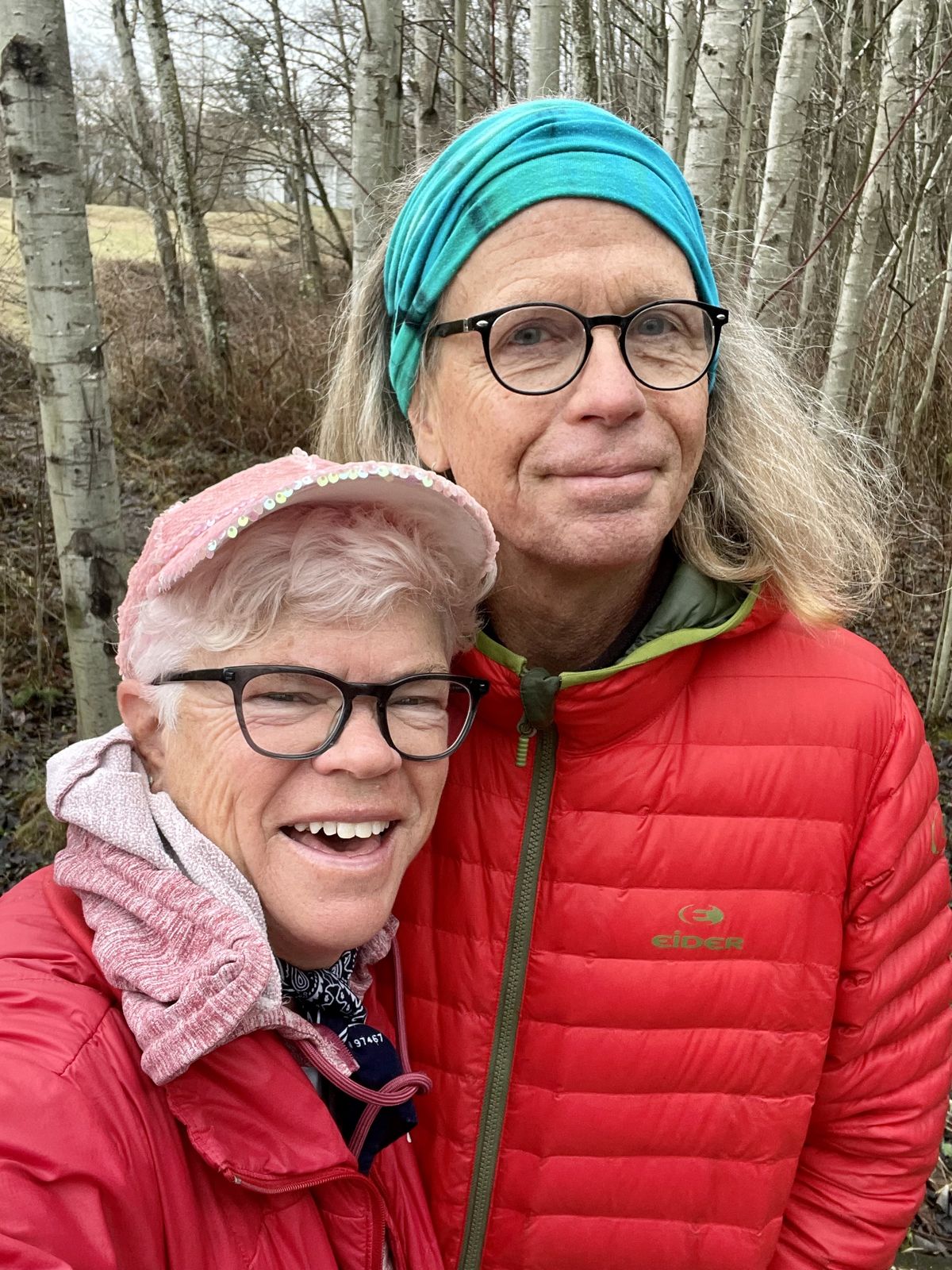 The Going Mobile team reunites in the Pacific Northwest. (Leslie Kelly)
This winter, we decided to try an experiment. It's actually an expanded variation on a theme we've been practicing since the beginning of this epic journey: Leslie gets to satisfy the snowbird itch while John plays ski bunny.
It's been going pretty well, especially with all the fun visitors Leslie has enjoyed in Palm Springs. But seven weeks apart is a bit much, so lonely Leslie bought a cheap ticket on Allegiant airlines and flew back to Bellingham for a bit. It's a nonstop flight, so that's pretty cool.
But, brrrr, she should have packed her warm scarves and mittens and is that snow? Ha!
One of our goals on the reunion tour was to head north of the border for a little sea and ski. It was good to be back in Vancouver, British Columbia, one of the most vibrant cities on the planet.
Yes, the traffic is challenging and even as many times as we've been, Leslie still gets turned around when wandering downtown. But somehow we found a way to check off all the boxes on our big city to-do list. Here are some of the highlights:
A warm welcome: The Ramen Butcher was a short walk from our hotel – the lovely Skwachays Lodge – and the steaming bowls of soupy noodles was the perfect way to prep for our urban hike. Leslie likes the ultra-rich, traditional tonkotsu broth while John goes for the lighter shoyu, both were very satisfying.
After lunch, we explored Gastown and drank in the view from the waterfront. We did some shopping on Robson before heading back to the hotel to get ready for dinner.
For that meal, we took a shot at what looked like a popular sushi place in our neighborhood. We were pleased with the outstanding rolls at Tokyo in April, though we couldn't help noticing the distinctive dish on our neighbor's table. When asked, one of the diners explained it was an omelet wrapped in a crepe and it was a big hit on Instagram. Well, of course.
Early start: The following morning, John hit the road, heading north to Whistler Blackcomb for a day of skiing. Even though the late-January snowpack was below average, North America's biggest resort still delivered with a vast array of groomed runs.
Leslie took a walking tour in Stanley Park that focused on that green space's towering trees. Led by the indigenous-owned Talaysay Tours, the Talking Trees. Tour highlights included learning how the trees and plants of the Pacific Northwest have been harvested by native people for food and medicine. Hmmm, Douglas Fir sap as a soothing salve, who knew? The engaging local guide shared her history, family stories and traditions of the Indigenous ways of living. Highly recommended.
On our way home: We stopped at Granville Island Public Market to pick up ingredients for dinner. Leslie loves to wander through that vast indoor space, always swinging by Oyama Sausage Company for some delicious charcuterie. We scored some beautiful mussels harvested off Salt Spring Island and assorted produce.
It was the latter that got us hung up at the border crossing. Turns out persimmons can't be brought into the United States. Good to know.
Seattle RV Show
If you want an excuse to head to the Emerald City next week, here you go: The Seattle RV Show runs Feb. 16-19 at Lumen Field Event Center. Tickets are $15 for adults, $13 for seniors (62 and older), and children (17 and under) are free. For information on dealers attending the Pacific Northwest's biggest RV show, go to seattlervshow.com.
---
---