Fri., Jan. 6, 2023
Visit to Joshua Tree National Park is a real flashback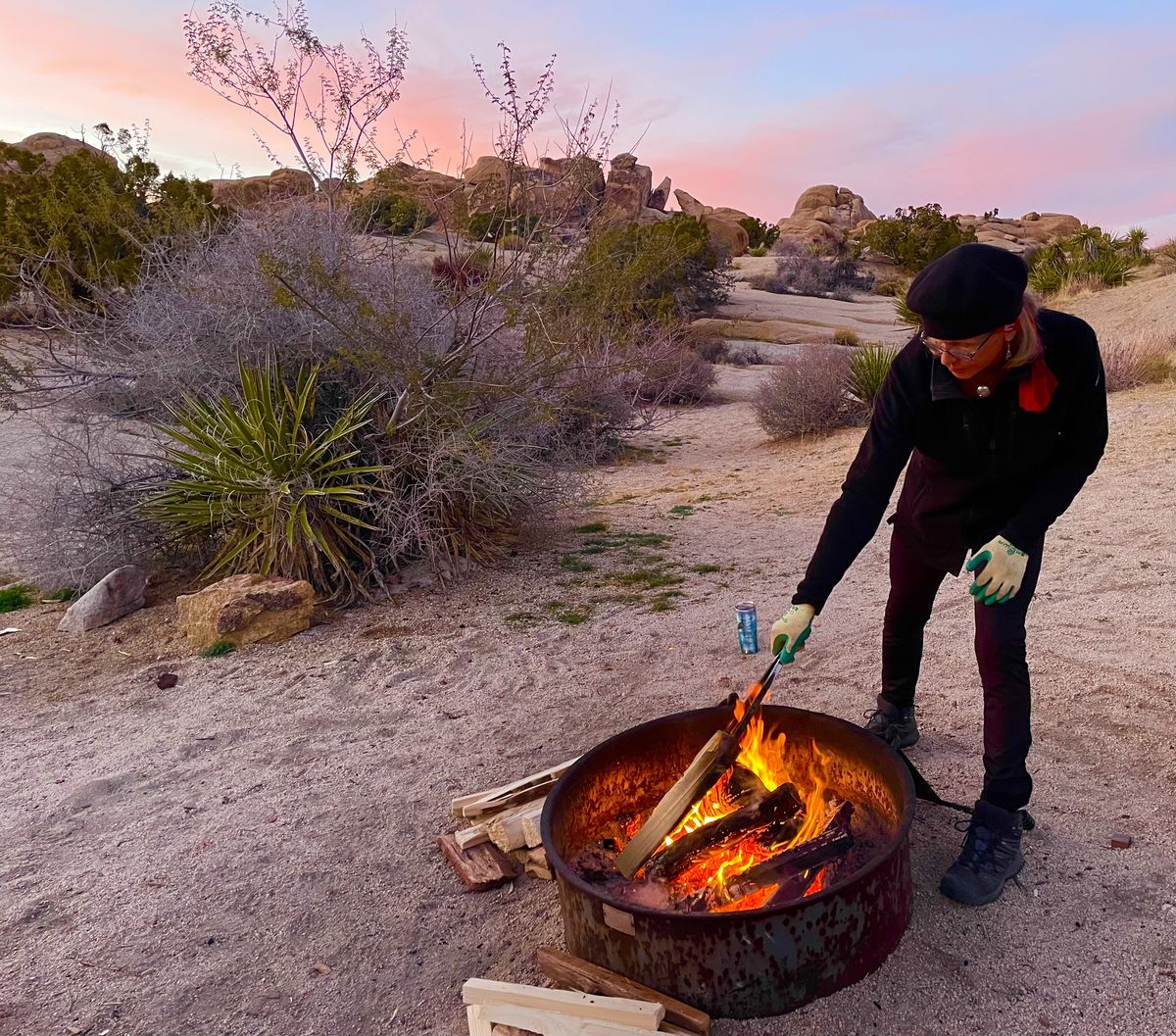 Nightly fires kept us warm in the December chill at Joshua Tree National Park. (Leslie Kelly)
It was deja vu all over again as we pulled into our site at Jumbo Rocks Campground in Joshua Tree National Park. Our crazy/brilliant RV journey began right here at site No. 120 five years earlier.
That was the fateful December trip when we pitched a tent and were blown away -- not in a good way. Sure, we were in awe of our magical surroundings during the day, but that evening in 2017, the wind furiously whipped our tent.
While John slept through the racket, Leslie was wide awake for most of the storm, hatching a plan. "I'm so over tent camping," she griped. "Why don't we buy a van or a motorhome?" Cue John rolling his eyes.
Yet, a month later, we were wandering around an RV show in Seattle, considering what could work. There was much shopping for RVs that followed, with test runs in everything from a Peace Van rental to a massive Class C CanaDream that we used to tour hot springs in British Columbia in the spring of 2018.
We finally went with the 23-foot Thor Gemini in the fall of 2018 and have put on more than 55,000 miles exploring. Leslie definitely does not miss the tent, especially during our latest three-night stay at Joshua Tree.
During the day, we hiked and biked around the park, hitting the Split Rock trail and wandering the otherworldly landscape around the expansive campground. When the sun set, John built roaring campfires as the temperatures dropped dramatically. We were the happy recipients of some bundles of wood left behind by tent campers who pulled the plug on their stay when weather rolled in. We could relate.
But as the rain fell in the desert, we were tucked into our cozy space. We felt incredibly grateful for the experience even though we had to ration water and keep an eye on our coach batteries. We were dry camping, with the closest water refill station miles away.
As we headed out through the 29 Palms exit from the park, we dipped back into a remote segment of Joshua Tree for a final hike. The 49 Palms Oasis is an outstanding 3-mile round trip through some desolate country punctuated by gorgeous barrel cactus, birds you won't see elsewhere and a stand of verdant palm trees at the end of the trail. We hit this moderately strenuous hike early enough that we saw very few people, which was not the case on the busy trails in the main portion of the park.
Those crowds were the biggest change from when we first visited all those years ago. It was a bummer to see footprints everywhere, wayward wanderers tromping through our campsite and to witness the degradation of the delicate vegetation. Let's hope the national park service figures out how to preserve this special place by implementing restrictions as they do at Denali, Yosemite and Zion, where car traffic is limited and buses are used to transport visitors.
After our trip to the park, we soaked our aching muscles at Sam's Family Spa. That old-school spot in Desert Hot Springs has new owners and the funky RV park has taken a turn for the worse. Our campsite was nearly $100 for the single night and it looked like a garbage dump for the permanent residents next door. Tsk, tsk.
On the plus side, the sky-high price included two passes for the hot springs, the best part about staying at Sam's..
This chapter reminded us once again that this journey might sometimes hit a few bumps, but that's OK. We're grateful for the smooth ride most of the time.
---
---