We're bubbling over with tips for successful summer RV road trips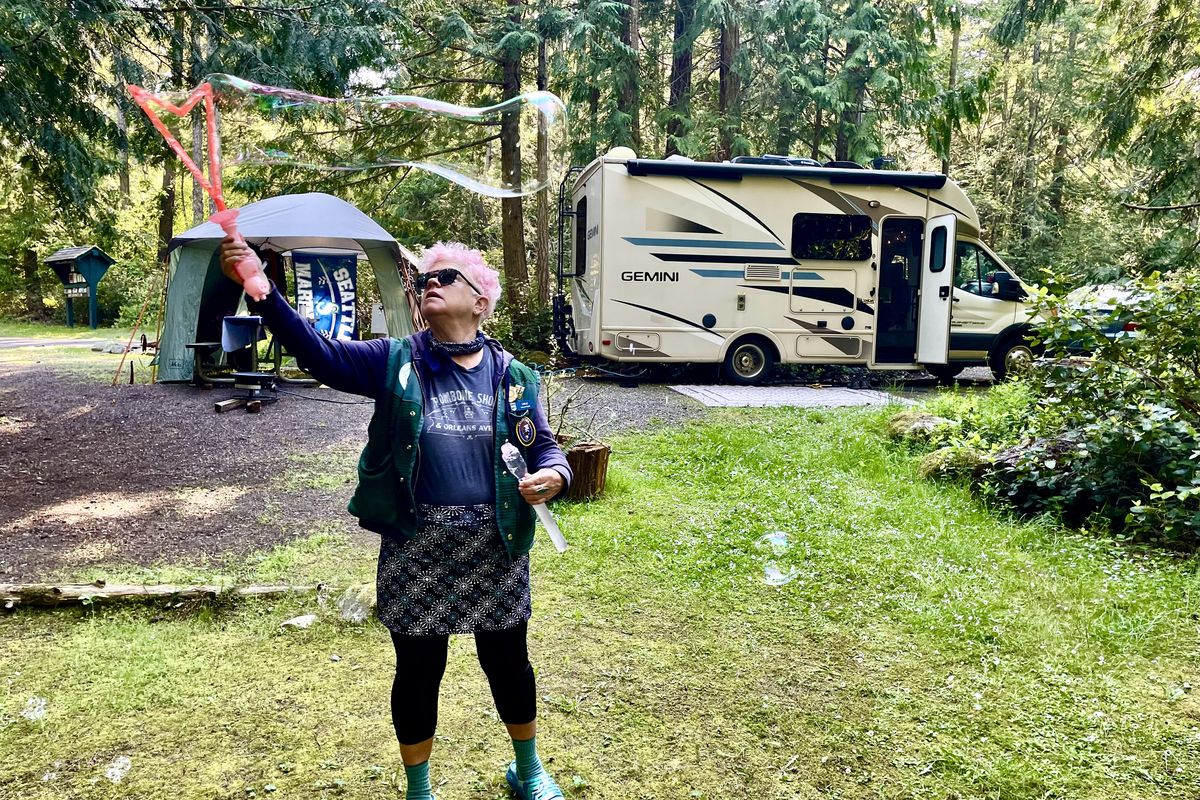 "Did you remember to wash the sheets?"
"What about the bathroom? Did we clean the shower?"
"I can't find my hammock -- did you pack it?"
Important questions as summer travel season arrives. After checking off our list, we humbly offer some suggestions to assist in getting you and your rig roadworthy.
Vehicle maintenance: Whether you're driving a motorhome or towing a trailer, make sure your vehicle is up to date with no check-engine lights flashing, good tires, clean oil, new windshield wipers and full washer fluid. And make sure that towing insurance is up to date.
Sanitize your fresh water tank: If it's been a while since you've been out, consider using a small amount of diluted bleach in your fresh-water tank, then drain the tank and run some clean water through the system before using.
Closets and storage spaces: When we first started out, a veteran RVer offered us this tip, which has served us well over the years. When you start a new trip, he said, always look in your closets and storage spaces and get rid of the stuff you never used on the last journey. It's also a good time to dust or vacuum those spaces.
But don't forget … This year, when John was cleaning out the back storage container, he left the hammock at home, thinking, "Oh, well. Leslie never uses this." Of course, the first question she asked when we got to camp was, "Did you bring my hammock?" A spirited discussion ensued. In other words, check each other's work before heading out.
Make the bed: We're firm believers in starting a trip with clean sheets, with Comphy earning the title of our faves of all time. On one memorable outing, we remembered to clean the sheets but forgot them at home. So clean those sheets and maybe make the bed, too.
Deep-clean kitchen, bathrooms and windows: Lots of dirt and grime accumulates during a road trip. We often return home with a fairly clean rig, but it's not sparkling. Start a new trip out right by washing sinks, stovetop, showers, toilets and windows. Make sure the fridge is sanitized and free of mold before you turn it on.
But don't deep-clean the floors: We've learned the hard way that deep-cleaning the floors is a waste of time because you'll only get them dirty when you're loading up for the next trip. So save the deep floor-cleaning for when you are living in the rig.
Pantry items: If you travel to remote locations, shopping will be a challenge. You'll save yourself time and money if you assemble a complete pantry of hard-to-find food items before you hit the road. You can read some pantry stocking advice here: https://www.spokesman.com/blogs/going-mobile/2019/nov/04/rv-cooking-pantry-staples-help-us-through-rough-patch/
Anticipate problems: As you get to know your RV, you learn which things might break over time. In our case, that includes shelf latches and door hinges, for which we stock extras.
Speaking of extras: Do you have extra double and triple A batteries? You never know.
Fire tools: Hatchet, paper, lighter? Check! S'mores kit? Check, check!
Maps, maps, more maps: OK, this is John's particular obsession. Traveling often sparks conversations about other trips you'd like to take, and that means … his beloved atlas! We carry an assortment, from a North American atlas to various state gazetteers to specific national park maps. Of course, there's also apps for plotting routes, but we like to go old school.
Mouse in the house? Maybe you think, "We've never had mice in here." We thought that too, but our little buddies found a way in -- twice. Fingers crossed, we've blocked all of their rodent entrances with steel wool. We've also had a mouse nest in our engine block, so check under the hood, too.
And speaking of mice: Pack a couple of mousetraps, just in case.
Don't forget the … bubbles? OK, this is Leslie's particular obsession. She loves blowing bubbles and watching them float above the campsite. It's remarkably therapeutic -- give it a try.
Ready to go? Send us some pics from your trip and we'll share on our new Facebook page. Email us at goingmobile@spokesman.com.
---
---