Fri., March 10, 2023
Heading to Arizona for a farm stay and Mariners spring training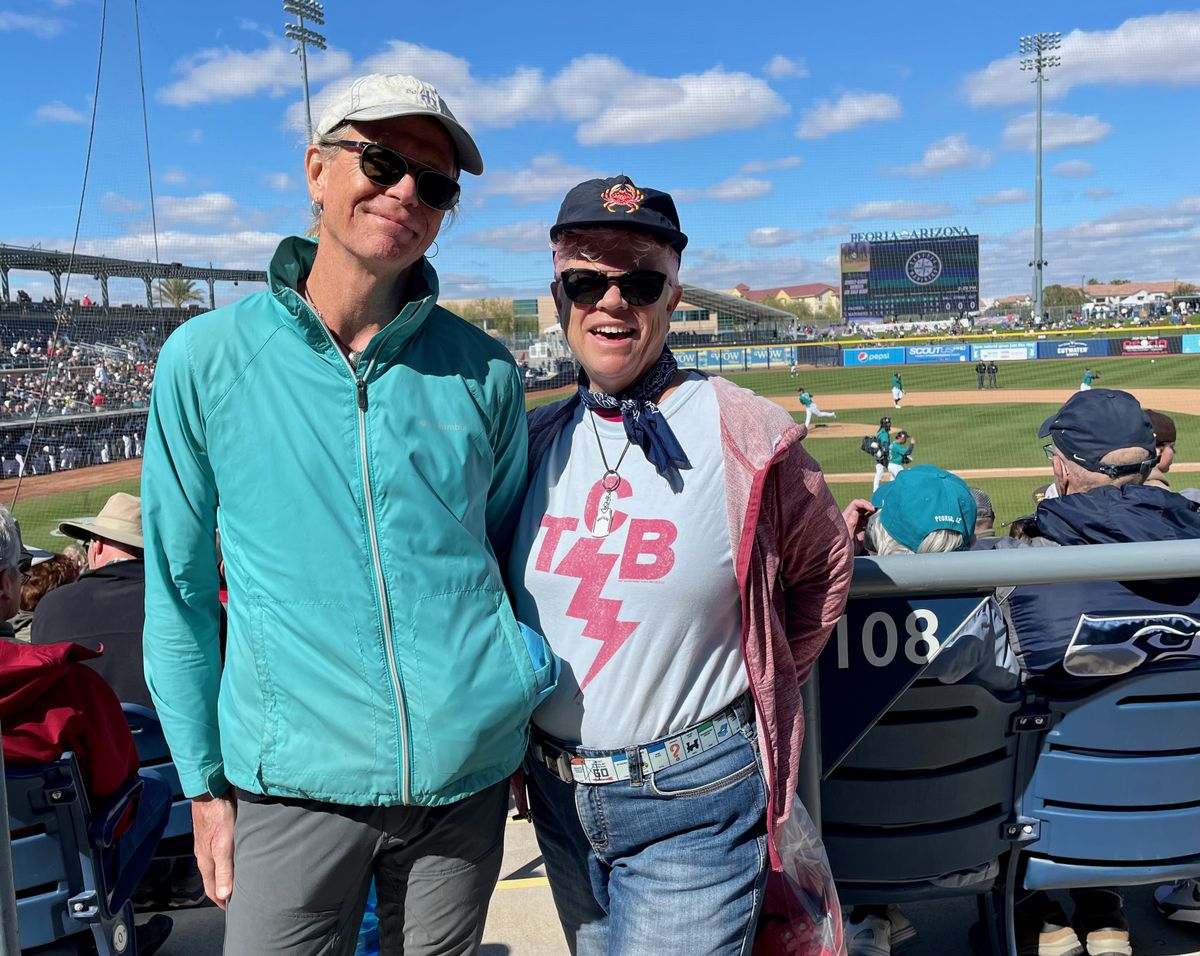 At Peoria Sports Complex in early March for a Seattle Mariners spring training game.
Watching Seattle Mariners pitcher Logan Gilbert warm up in the bullpen, the scene seemed so wonderfully familiar. We were once again in Arizona at spring training and it felt so right to be among hardcore M's fans.
Our trip east from Palm Springs had been dramatic. Wind gusts and driving rain are extra stressful when you're behind the wheel of an RV. And, wow, we had forgotten about all the truck traffic on Interstate 10.
Still, we made it to our destination in good time, pulling into Pinnacle Farms south of Phoenix for a night booked through Hipcamp. It exceeded expectations.
While John set up, Leslie made a beeline for the family farm's produce stand. She was impressed by the quality and the prices. Softball size grapefruit rang up at two for a buck and gorgeous greens were $1. Heaven!
Back at the rig, Leslie started prepping for dinner because we were having a special guest. Our friend, Tahirih, lives nearby and we had been looking forward to visiting outdoors on the expansive lawn. Mother Nature had other plans, so we set up inside.
The Gemini's floor plan is roomy for one, tight for two and downright cramped for three. But somehow, we made it feel cozy while we caught up over grilled salmon, mushroom risotto and sauteed kale from the farm stand.
The storm had passed by the next morning, and we headed to Peoria Sports Complex where the Mariners and San Diego Padres play spring ball. As we pulled into the parking lot, memories came back from the last time we were in Peoria -- three years ago for the ill-fated pandemic-shortened season.
We bought tickets for the lawn in the outfield, a popular perch for families with kids and, on this day, some boisterous Cougar fans.
Leslie headed to Autograph Alley to try and get her Julio Rodriguez card signed. (Ha! Fat chance!!) Standing at the rails where the players walk into the park, she enjoyed the sunshine and the camaraderie of fellow fans.
Without much cajoling, Leslie shared a few magical Mariners memories with the dad of a kid who was having lots of luck getting a ball signed. She even trotted out recollections of the trip she and John took with their friend Rick Lukens to see Nolan Ryan in 1990. At the time, Lukens was a sports anchor at KXLY and somehow got the three of us onto the field for batting practice. And, yes, Leslie stood within feet of Ken Griffey, Jr., and managed to not go full-on fan girl.
In the hour before the game in Peoria started, John was mesmerized by the moves of Gilbert warming up, with Cal Raleigh catching. "He's supposedly working on a new pitch," John told Leslie when she returned. "That's cool, but I'm on the hunt for the Churros Guy," she said.
We enjoyed the game, commented on the new pitch clock, cheered when the team scored and too soon, it was time to hit the road. As we were getting in position to merge onto the busy Arizona 101 Loop freeway, a guy in a pickup pulled up beside us and waved. Leslie rolled down the window and he asked: "Do you want to sell it?" referring to our tiny home on wheels.
"Not yet," Leslie replied.
It was a beautiful drive north, snow blanketing the mountains and when we pulled into Dead Horse Ranch State Park, we again felt a bit like we were coming home. In fact, we had the same site where we parked during the early "shelter in place" days of the pandemic. Those uncertain times were spent hiking the extensive trails in the pretty park, wondering when we'd be given the green light to head back to the Pacific Northwest.
So happy those days are behind us, and that we're back in beautiful Northern Arizona.
---
---