Fri., March 17, 2023
In gorgeous Sedona, we've found a home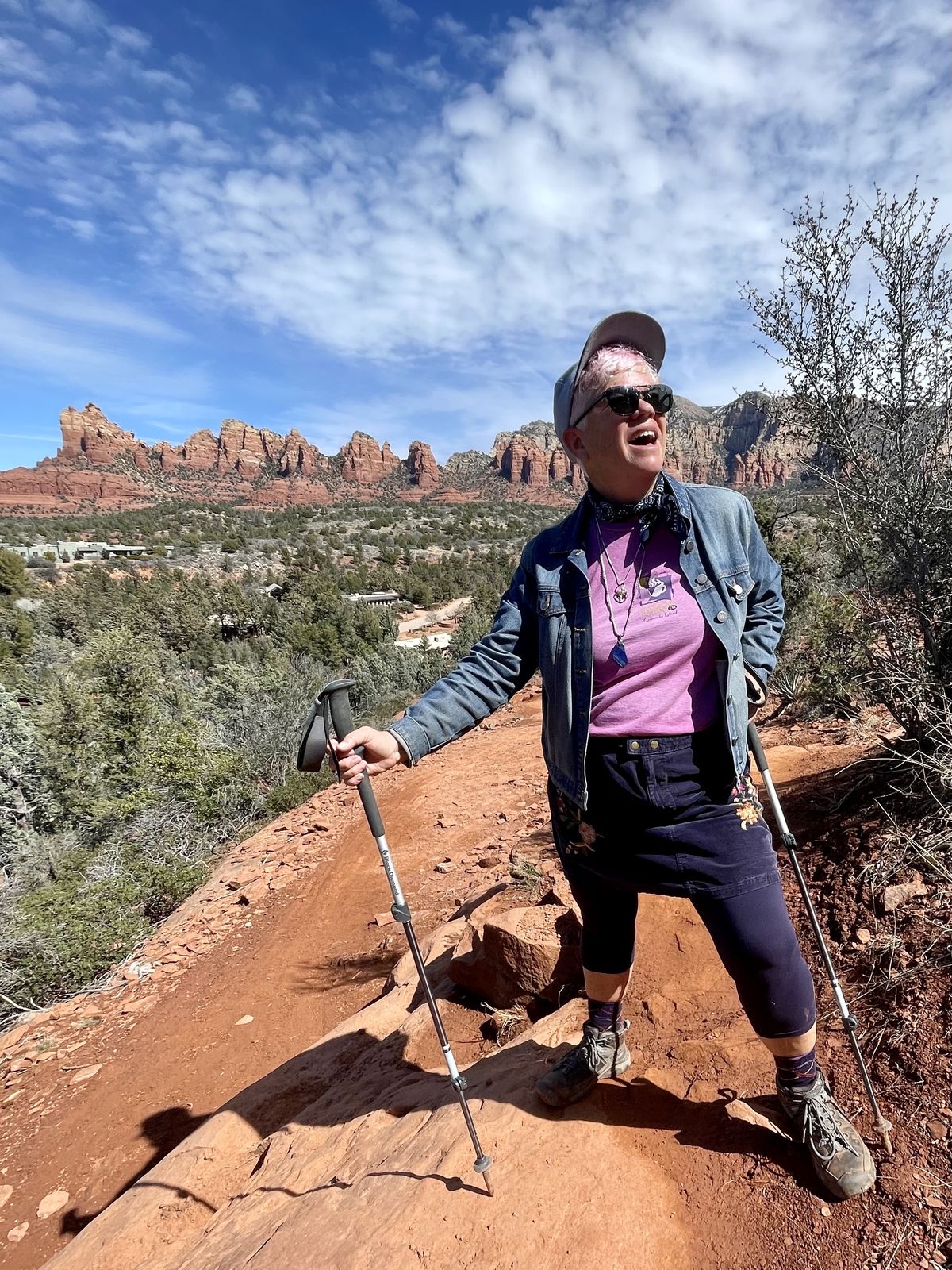 Leslie hikes along the Hog Wash trail in Sedona, Ariz. (John Nelson)
We are confirmed Washingtonians, but we have several favorite places we like to think of as "home" scattered around the West.
At the top of the list is Sedona, Ariz.
Of course, we can't afford to actually live full time in Sedona, where the median home price is $1.3 million. But thanks to our RV, the cliche "home is where you park it" takes on real meaning in Sedona, where we paid a little over $60 a night to live in early March.
And just like any hometown, Sedona sparks a lot of memories for us.
We arrived in Sedona during our first RV tour in 2018 and were immediately smitten. The stunning red rock canyons energized us, and we hiked everywhere, marveling at the beauty. We even felt the power of the so-called vortex, a kind of cosmic energy source said to be all around the scenic city in Northern Arizona.
After our introductory visit, we came back -- again and again. Memorably, we were stranded in Sedona during the early lockdown days of the pandemic in 2020 while we made a plan to return north. We were fortunate to find such a gorgeous and comfortable place to live during a very uncertain time.
This time around, our arrival once again conjured some warm emotions. A snowstorm had dumped glistening snow on the red rocks, the sky was impossibly blue and we gazed in awe at all the beauty as if seeing it again for the first time.
Sedona wouldn't feel like home if we didn't have a nice place to hang out. Rancho Sedona RV Park, where we stayed for a week this time, is an excellent commercial park right in the middle of town along scenic Oak Creek.
Besides location, Rancho Sedona is wonderfully maintained, and a steady supply of visitors cycle through when you stay for a week. We met and talked with a number of people -- lots of Washingtonians -- and many others from Floridians to Michiganders.
We were all there for the same things: the vibe, the hiking, the amazing scenery.
Every day brought another adventure. We biked one day to The Courthouse, one of many beautiful rock features, did a day hike and then had lunch in the nearby village of Oak Creek at Butterfly Burger.
On another day, we biked to the Chimney Rock trailhead, cranked out a hike and finished with a visit to the cute-as-a-button Sedona Farmers Market.
There's never a shortage of hiking or bike rides when you're in this part of Northern Arizona. When we weren't on the move, we often just hung out at Rancho Sedona in the crisp, sunny air and soaked it all in, Oak Creek cascading right in our backyard.
Even with all its charms, Sedona isn't perfect. On many days, it's mobbed by day-tripping crowds from Phoenix, so you need to be strategic to avoid the chaos.
Rancho Sedona's location helps keep you sane. It's close enough to town for an easy walk, but far enough away to feel like a sanctuary. And when you're on foot or on bike, all that traffic can be avoided.
By the end of our week, we were filled with red rock bliss and ready for the next chapter in our tour of the West. Our home in Sedona delivered once again. and as we drove out of town, we asked ourselves, "When are we coming back?"
---
---