A splendid detour to Hollywood, another back in time to Chaco Canyon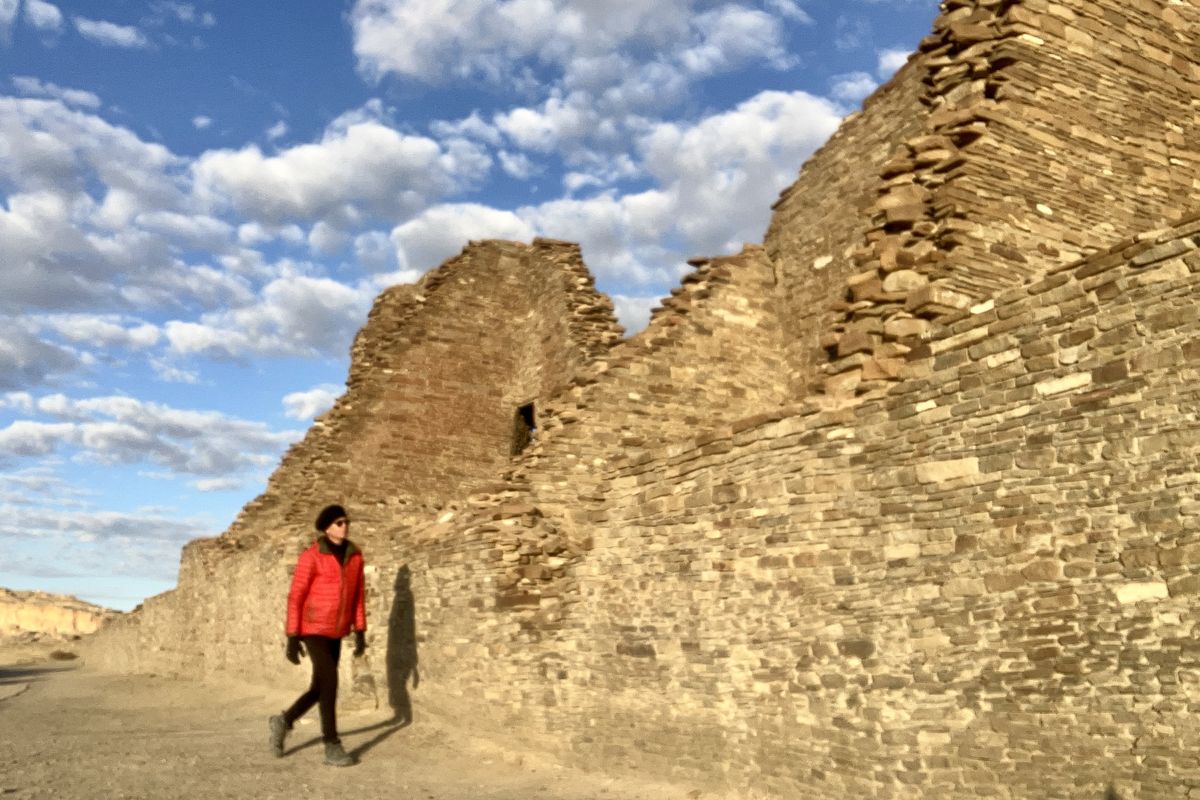 We recently spent a little time apart in destinations that couldn't be more different. Let's hear about this tale of two cities.
Hollywood, here I come: Leslie flew from ABQ to LAX to meet up with her sister, Laurel, for a cast and crew screening of "The Marvels." Seasoned hair stylist Sissy worked on that entertaining action movie, a gonna-be blockbuster that just might be her final project before retirement. It seemed fitting that Leslie was there for this important occasion since she attended her sister's first crew screening in 1996. That was for a little film called "Titanic."
Meanwhile, in the ancient ruins: After the airport drop-off in Albuquerque, John drove north to Chaco Culture National Historical Park, a destination that was every bit as flashy and important as Hollywood to the Ancestral Pueblo people who lived there 1,000 years ago. It's a challenge for our RV to make it on the rugged backroads of New Mexico, but the Gemini came through.
Savoring SoCal: One of the joys of Leslie's side trip was spending time with our grownup kiddo, who has lived in the City of Angels for more than six years. They had a blast grabbing breakfast at Canter's Deli, hiking in Arroyo Seco near Pasadena, eating tacos and later, rewatching that now-classic sinking ship saga with our dear sis/auntie at the comfy digs where we were staying. We're talking about quality family time!
Dark skies at night, magic in the day: Chaco Canyon is way out in the wilds of New Mexico, making it a wonderful place for stargazing at night, biking and hiking in the light of day. John gets up early, hiking to a pueblo site before breakfast, and then visiting three others in this magnificent national park. The seven-mile hike to Penasco Blanco was stunning, traveling past petroglyphs to a gorgeous mesa-top view above the canyon.
Saying so long in LA: While it was a lovely reunion, saying goodbye is never fun. The action-packed couple of days in L.A. was over too soon and tears were spilled as we hugged it out. We'll be back soon, though.
Thankful for the RV: Chaco Canyon's harsh landscape is dry, dusty and extremely cold at night in November. Thanks to the RV, it was comfortable, and John stayed warm for a second night before packing up. There's more hiking to do before leaving -- the sunrise visit to Pueblo Bonito and the four-mile romp to South Mesa were extra special. Then it was time to head south on the rutted roads for a reunion with Leslie in Albuquerque.
Heading west: Leslie arrived in ABQ just in time for the season's first snowfall. It's chilly as we travel west along Historic Route 66 toward blue skies and warmer temps. So long New Mexico -- hello Arizona!
Connect online
Follow along with our adventures through the Southwest on Facebook and Instagram. Leslie's also been writing Google reviews of the RV parks we visit. And check out the spokesman.com for all of our stories, along with travel stories from our buddy Dan Webster. Go to: spokesman.com/goingmobile.
---
---