Sydney's Opera House: majestic is the word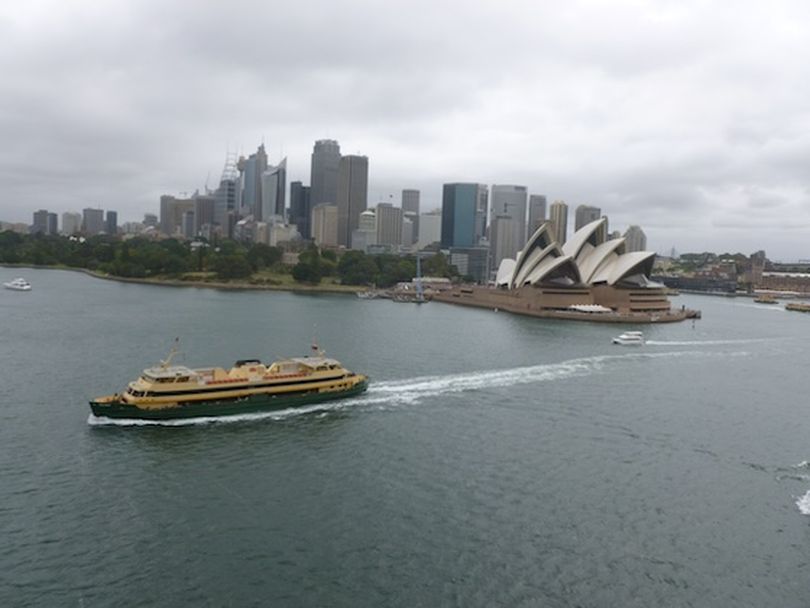 Some of us remember the days when daily mail meant actual letters from friends and family. Today, almost all the mail I receive are ads of some sort or another.
And many of those ads are from publications to which I either have a subscription or at least once had a subscription, now lapsed. Among them, sitting now next to my laptop, is the Smithsonian magazine.
I wish I could say that I read the Smithsonian cover to cover. I'd certainly be more informed, if no smarter, if I did. But the world of 2023 offers us too many diversions. So I'm drawn typically to whatever intrigues any particular issue of the magazine decides to feature.
One example: the September-October issue that trumpets "Journey to Spain's Last Moorish Kingdom." My wife Mary Pat and I were there – in Córdoba, Granada, Nerja and Sevilla – in late May, a trip I've already documented. So I took notice.
As I did, too, when my mail one day not long ago included a special magazine-type publication that the Smithsonian sends out as a means of advertising its travel arm. They call it Smithsonian Journeys. And, again, I took notice – especially to the trip featuring Australia and New Zealand.
It was in December of 2012 that Mary Pat and I flew to Australia. We spent a couple of days in Sydney before boarding a Celebrity Cruises liner that took us across the Tasman Sea to New Zealand, where we made several stops before heading back to the city where we'd first embarked. At which point we flew home.
The trip included far too many memorable experiences to list here, so I'll save most of them to relate sometime in the future. What I want to talk about here is the magic of Sydney itself.
Not that a single full day of sight-seeing can give you much more than a feel for any place, particularly a big city such as Sydney. But what I did see I liked, including visiting famous Bondi Beach, meeting the sister of a former Bloomberg Government colleague for lunch at a trendy outdoor restaurant, walking around Sydney Harbour and, top of the list, marveling while standing on the boardwalk between the Sydney Harbour Bridge and the Sydney Opera House.
I was especially impressed by the Opera House. I once had made a list of the things around the world that I wanted to see. Among those that I've managed to check off are Rome's St Peter's Basilica, the Louvre and Eiffel Tower in Paris, London's Big Ben, the canals of Venice, Argentina's Iguazú Falls, Agra's Taj Mahal, Beijing's Tiananmen Square and Forbidden City. (Among those left to see are Egypt's Great Pyramids and Australia's Uluru, formerly known as Ayers Rock).
One site that I particularly wanted to see in person was the Opera House, which fronts Sydney Harbour and has become a symbol of Australia itself. It's the building that Greek singer Nana Mouskouri called "one of the most beautiful houses I have ever sung (in) in my life."
Designed by the Danish architect Jørn Utzon, whose plan was among 233 entries from 32 countries, the facility was opened on Oct. 20, 1973 – which means that it will soon celebrate its 50th anniversary.
It wasn't an easy or quick construction process. The competition that Utzon won took place in 1955, and the prize was awarded two years later. But the idea for a performing arts center dated back to the 1940s, and construction – which came in four stages – didn't begin until 1959.
Utzon, who clashed with one particular government official over control and unpaid fees, didn't even see the end of the project. He resigned in 1966 (and died in 1990). The architect Peter Hall was hired, not without some controversy, to complete the project.
In any event, what was supposed to take three years and cost $3 million Australian dollars ended up taking 14 at a price tag of $102 million Australian dollars.
Yet what Utzon envisioned still stands. Yes, it's been worked on, several times actually, most recently in 2022. That was when the World Heritage-listed facility's concert hall was upgraded as part of a $300 million, decade-long plan in advance of the 50th anniversary.
Mary Pat and I joined a group that toured the place (current price is $27.94 in U.S. dollars). And if anything can rival the Opera House's outside, it's the interior, which is constructed largely pink granite and plywood. Overall, the structure is considered to be one of the most impressive 20th-century feats of construction. And if you ever have the chance to see it in person, you'll likely agree.
One final note: Regarding the shape of the exterior, Utzon explained that his idea doesn't conform with the popular view.
"Many people insist in saying that my design has been inspired by the sales of the boats or seashells," he said. "That however is not true. My design is like an orange. If you peel an orange you'll get these segments with shapes very much like what you see here. Those were the origin of my models, not the sales of boats, it just happened that the two are similarly shaped."
If you're interested in visiting Australia, you might consider Smithsonian Journeys. You can find all the information you need about the tour titled Splendors of Australia and New Zealand at smithsonianjourneys.org.
---
---