Beauty of the Rocky Mountains can cure even the worst bad moods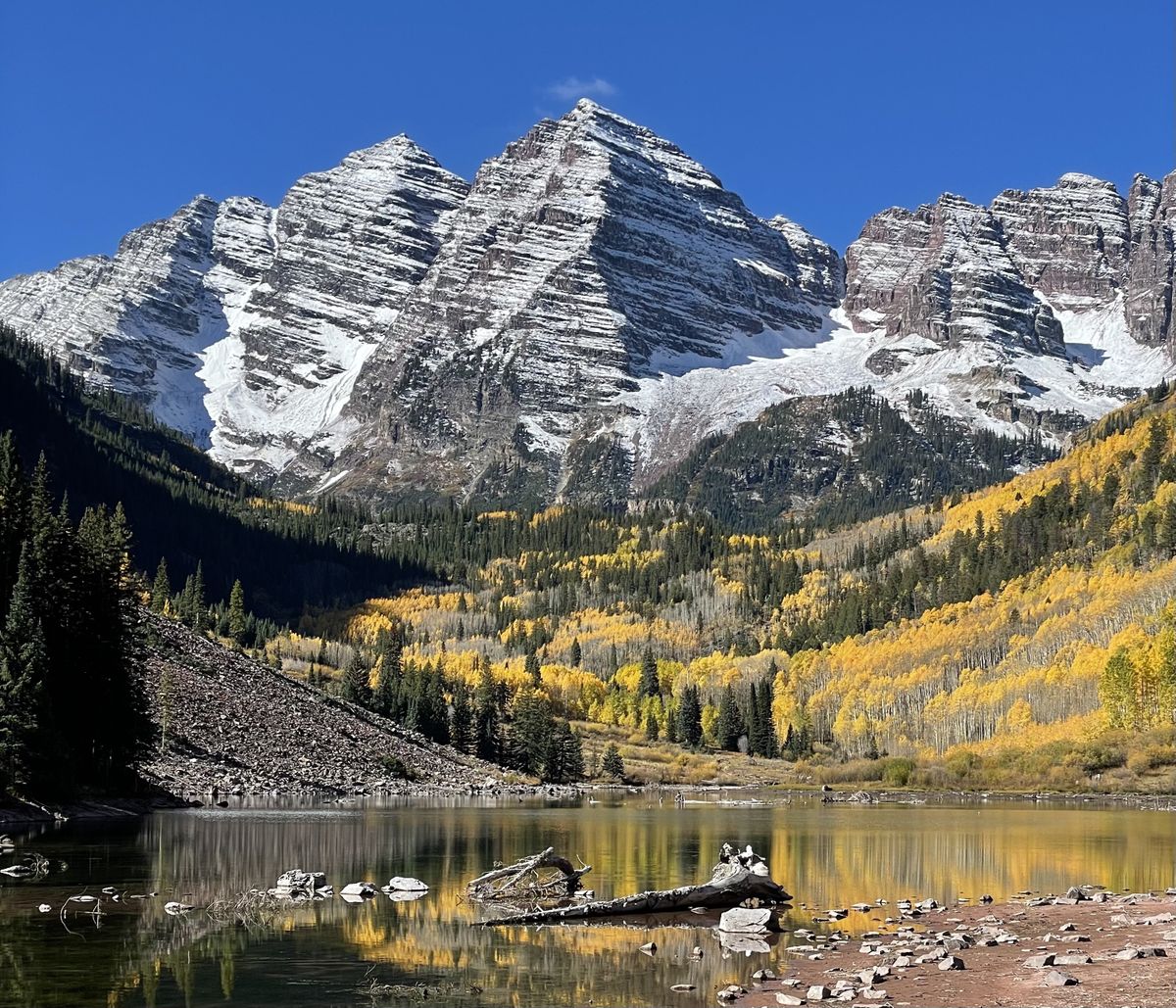 We'd had a series of bad days on the road, and now, heading into Aspen, Colo., a promised accommodation had fallen through. The only RV park nearby in Carbondale was full and when we called to find out about booking a hotel, we were told we could stay for one night -- at a ridiculous $350.
"I don't even know why we're going to Aspen," he said grumpily.
Leslie stayed calm, did some research and found a Forest Service campground that was still open in the Maroon Bells Scenic Area near Aspen.
John was still cranky. "It's too cold," he said, pointing out that temps were dipping into the 20s at the 8,000-foot elevation camp and we'd be off power for that time.
"Also," he said, "we're nearly out of water." We had not filled our tanks during our last stay because it had tasted funky.
"Let's just check out the campground," Leslie urged.
We drove up Maroon Creek Road to Silver Bar campground and found a beautiful spot, dazzling amid the golden autumn leaves. Leslie checked on availability and sure enough, it was open. For $7.50 a night. She grabbed two nights.
"Whatever," John said, still sulking.
But slowly, as we set up camp, his super-cranky shell started to crack. The beauty of Colorado's Rockies won't let you stay grumpy for long.
The skies were an impossible blue, the clouds drifting over snow-capped 14,000-foot peaks a puffy, blinding white. And then there were the aspen trees, glowing golden in the bright sunshine.
We rode our bikes the five miles up Maroon Creek Road to the popular viewpoint at the top of the canyon and were simply blown away. The Maroon Bells, perhaps the most beautiful 14ers in Colorado, were on display in all their glory.
We hung out, ate lunch, and John's moodiness was soon forgotten. Over the next two days, we camped and rode our bikes around the area, enjoying autumn in the Rockies.
One of the reasons we returned to the Aspen area is because we have history there. As cub reporters a few decades ago, we had worked in Western Colorado and had many fun times in Aspen.
The glitzy mountain town has always been a playground for the rich, but even in those good old days, it was affordable for middle-class visitors like us. Not anymore. All the old, hole-in-the-wall hangouts are gone, replaced by Hermes and Prada stores.
In spite of all the wretched excess, Aspen remains an incredibly gorgeous destination. And RVers can still have those same gorgeous, gazillion-dollar views for a cool $7.50 a night.
If you go
Three primitive Forest Service campgrounds are available from May into October inside the Maroon Bells Scenic Area: Silver Bar, Silver Queen and Silver Bell. We stayed at the four-site Silver Bar Campground and had the place to ourselves, paying $7.50 a night thanks to our America the Beautiful Senior passes. And on Colorado Highway 82 southeast of town, the 47-site Difficult Creek Campground is open from May to September.
---
---