After a repair stop in the Four Corners, we're firing on all cylinders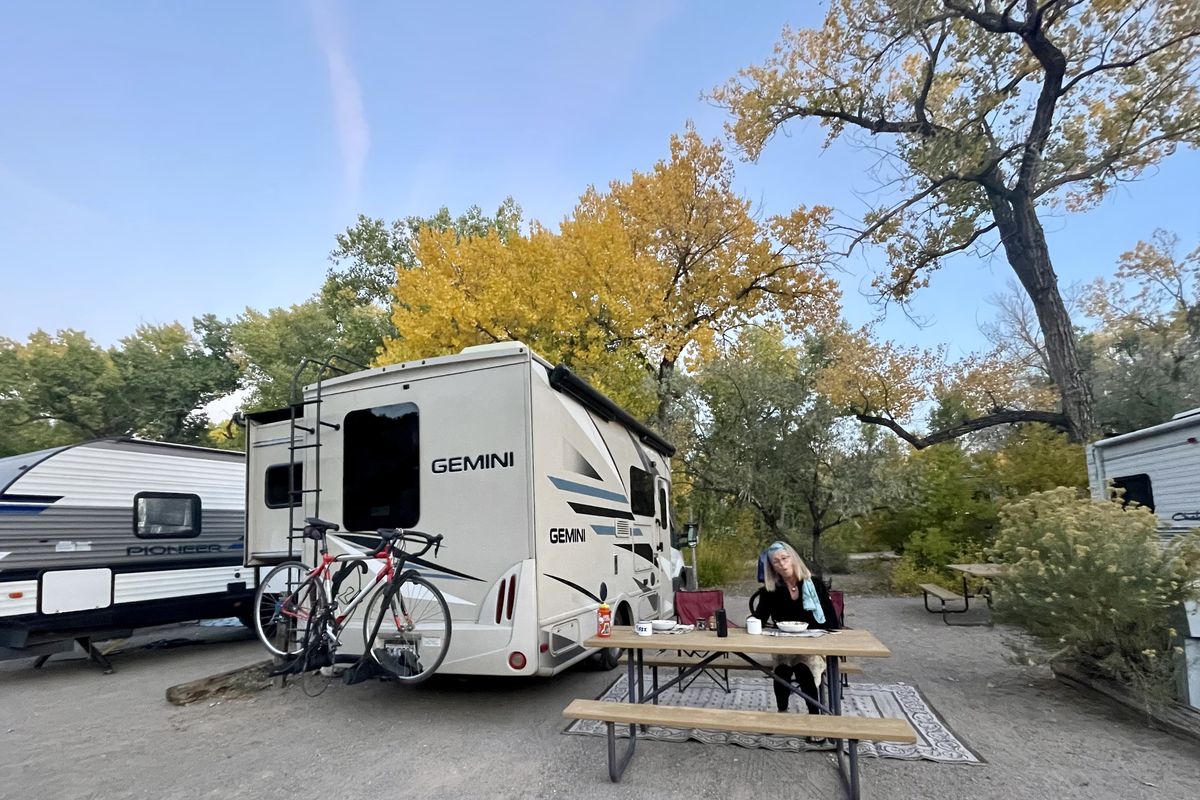 Let's cut right to the chase: The rig is all right.
After a few missed opportunities to address a nagging "check engine" light issue since we left the Pacific Northwest, we finally got service in Farmington, N.M. Big hooray to the team at The Wrench -- the only place we could find to do the costly ($1,700-plus) repairs.
That city in the Four Corners region wasn't on our radar for this fall swing through the mountain West, but we made the best of our stay at a Hampton Inn while the time-consuming process of replacing glow plugs was completed. But there were some nail-biting moments during this ordeal.
Cue the Going Mobile team playing their typical roles as good guy/bad guy with Leslie taking on the latter character with relish. When she phoned the shop during the first day for a progress report, we got the bad news that it would take another day -- at least. She nearly blew a gasket.
Shop owner Warren was chill, though, preaching patience. After talking it over with John, we decided to ride it out.
John later checked in and asked if we could expect to get it back the following day and we were told: Can't make that promise. You just never know what you'll find once you get in there.
Oh, no.
Happy trails: It feels a little like we're fish out of water when we're not sleeping in the rig. We forget things, grab the wrong clothing. We enjoy cooking our own meals, so while hoteling, we made do by biking to the grocery store to buy some supplies for a DIY dinner: Rotisserie chicken, a Caesar salad kit, lots of chocolate.
Our second evening of "roughing it" in the comfy hotel room was just fine and the stellar Wifi meant we could catch up on streaming some of our favorite series: "The Morning Show" and "Lessons in Chemistry" on Apple, "Reservation Dogs" on Hulu.
The next day, before noon, John got the good news -- it was ready to go. We loaded up and left town, heading east toward Chama, N.M.
And here's the best part of that journey: We noticed a big improvement in fuel economy, edging up to nearly 20 miles a gallon. Whew, what a relief.
Then, what a pleasure it was to spend the night at the lovely Ojo Caliente Mineral Springs on our way to Taos, N.M. This gorgeous place is a rare find, with a small RV park adjacent to high-end accommodations. Our spot was just $44.
And while we're on the subject of screaming deals, we took a detour for one night at the breathtakingly beautiful Wild Rivers Recreation Area, part of Rio Grande del Norte National Monument, near Questa, N.M. This dramatic destination is breathtaking. Huge bonus: Our non-powered site cost only $3.50, thanks to our America the Beautiful Pass. Talk about a sweet deal!
We made a vow during that stay to do more adventurous dry camping… now that our vehicle is back on track.
Please follow along on Facebook and Instagram. Leslie's also been writing Google reviews of the RV parks we visit.
---
---