Celebrating a birthday at these special Seattle-area lodges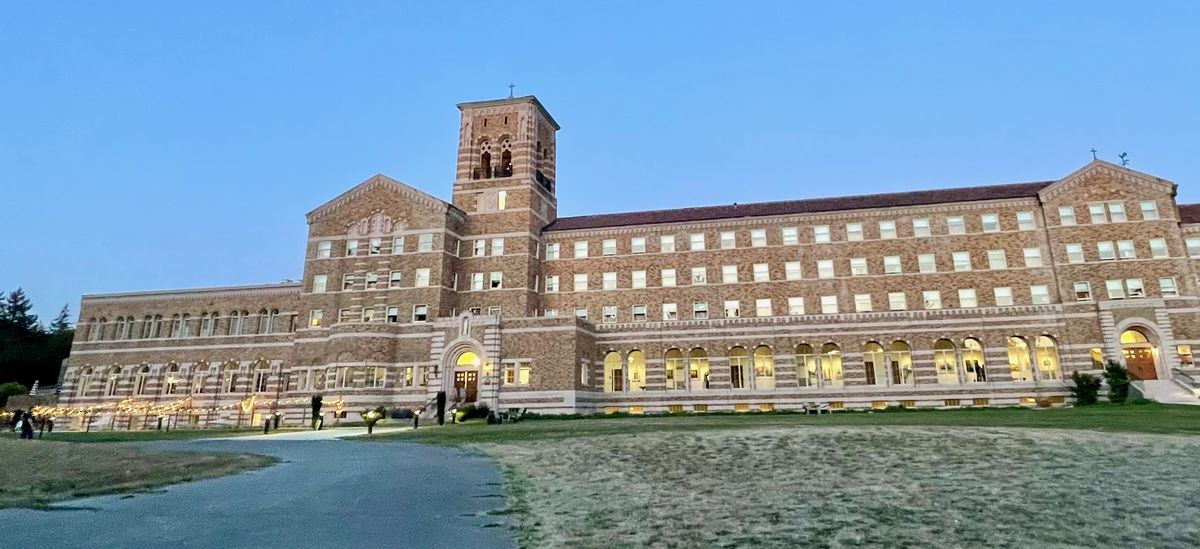 We're now both part of the whole Medicare cohort and pretty darned happy about it! Rather than saying we're retired, we lean into the "we're-writing-a-new-chapter" scenario.
Some things never change, though, and that's never more clear than when Leslie's birthday rolls around. She's like a kid when it comes to marking another trip around the sun.
Here's her take on the most recent birthday celebration in Seattle.
This might sound like I'm a bit of a control freak – hey, I own it – but I get a big kick out of planning my own birthday celebration. This year, I wanted to take the RV out of the equation and enjoy some new-to-us accommodations.
Let's call this mini-getaway to the Seattle area a tale of two lodges. We had wonderful experiences at the Lodge at St. Edward Park on the shores of Lake Washington for a couple of nights and finished on the actual birthday with a lovely stay at the Lodges on Vashon. Only bummer was the big city traffic, but whatcha gonna do? Suck it up and turn on the audiobook.
First stop was to St. Edward State Park in Kenmore. The magnificent Lodge sits smack in the middle of the forested park and features blissful peace and quiet on Lake Washington, loads of trails and even a pickleball court in what used to be a chapel. Yup, times they are a-changin'.
One of the most impressive features of this gorgeous hotel is the Catalyst Fine Art gallery space on display throughout the building. Kamela Daniels does a wonderful job setting the tone and lining up artists to interact with the public. I was thrilled to meet Sabah al Dhaher, who was working on creating a face-shaped sculpture out of a large piece of wood. What a pleasure it was to hear about his process.
I was also blown away by the culinary artistry on display during a meal at Cedar + Elm restaurant. Chef Luke Kolpin demonstrates some of the incredible lessons he learned while working nine years at the legendary Noma in Copenhagen. Do not miss his spectacular black cod dish, nor the caramel tart with shiitake mushroom cream. Outstanding.
As much as we hated to leave this special place, we were looking forward to making the trip across the water to Vashon. But not before stopping for goodies baked by Spokane native Charlie Garrison at Lady Jaye in West Seattle. Garrison's exceptional sweet and savory pastries have fans lining up each Sunday morning. Soon, fans will have a shot at getting a daily dose of yum now that a separate bakery called Little Lady Jaye has opened.
After a beachfront picnic with buddies, we hopped a short ferry ride to the Lodges on Vashon, which is billed as a romantic retreat. As soon as we arrived, I immediately fell in love with this tranquil space. There are various sizes of tiny homes arranged on a beautifully landscaped property.
Our front door opened to a comfy living room with a gas fireplace, next to a sitting room with a tiny table for two near a slider that looks out onto the Vashon woods. Ahhhh, I didn't want to leave this place. But, there was the rest of the island to explore.
I headed on foot to visit my buddy's awesome restaurant called Gravy on Vashon. Chef Dre Neely is known and loved for his outstanding barbecue. I missed the Sunday brunch service, but chef Dre packed up some goodies including the knockout brisket. Our small kitchen proved to have just enough stuff for us to put together some barbecue sandwiches topped with Britt's Pickles Black Market Kimchi. Heck, yum!
That peaceful setting made for an especially restful slumber. Then again, maybe I was just tuckered out after all the celebrating!
---
---