We're ready to hit the road with these new food finds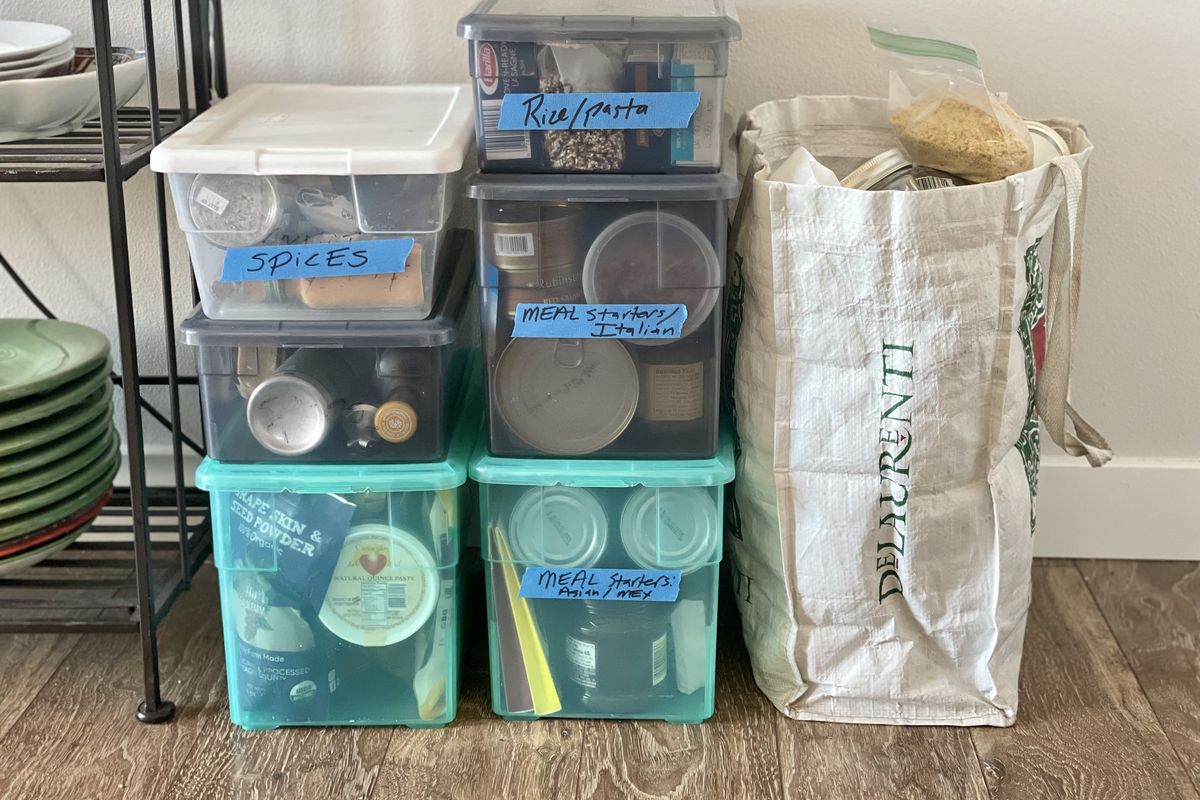 One of the daily pleasures of life on the road is sitting down to dinner in an ever-changing landscape. As we gear up for our big fall and winter trip south, Leslie has spent a few weeks putting together the pantry and procuring some new gear that's going to make the journey even more delicious.
Good morning: We're just fine with a cup of pour-over, followed by a stop later for a latte. But, oh, joy, we've now added a very cool espresso machine to the mix. The EspressoWorks All In One Barista Bundle was billed as perfect for dorm rooms, so the size works in our tiny home on wheels. And it works like a champ, producing shots and steaming milk lickety split. See you later, Starbucks!
Swedish dishcloths: Yes, it sounds silly, but we're kind of obsessed with this classy rag that comes in all sorts of colors and patterns. It's the most absorbent cloth out there, better than a sponge and paper towels put together.
Beyond staples: We always have rice and pasta, herbs and pizza sauce, tuna and canned beans on hand. This summer, Leslie scored some amazing upgrades to the go-to options for meal making. Top of the list is the Rub with Love Toasted Shallot Mustard, a gift from celebrity chef Tom Douglas after Leslie's appearance on the Hot Stove Radio show. (You can watch the segment on YouTube! Link: https://www.youtube.com/watch?v=IuZqpcHzNsc)
Treats from the sea: While we're out roaming, it's often challenging to find fresh seafood. OK, let's face it: we're spoiled living in the Pacific Northwest, especially this summer when we camp hosted on Lopez Island and on Whidbey at Fort Casey's gorgeous Admiralty Lighthouse. Fortunately, we discovered a new line of products being carried by Taylor Shellfish. Tinned fish is having a trendy moment and we couldn't be more thrilled to add flavor-packed oysters and mussels and especially the fantastic smoked Coho salmon from Ekone. Yum!
New in the salad bin: Besides marinated artichoke hearts and Mama Lil's pickled peppers, the sun-dried tomatoes and crispy onions, we've added a new tool in our tossed greens kit: spectacular cold-pressed extra virgin sunflower oil from Fresh Press Farms. Leslie loves the gorgeous aluminum bottle and the pristine flavor of this vertically integrated operation in Georgia, which also produces lovely extra virgin olive oils.
Finishing flourish: Yes, we both have a serious chocolate addiction, so we're always on the lookout for something new. We even tried – and liked – the Russell Stover sugar-free chocolate assortment. As many new bars as we've tried, though, we always seem to gravitate back to Theo, a well-made product that's often on sale. Dark chocolate for LK, milk chocolate for JKN.
Now, let's get loaded up and evaluate whether we've got too much or not enough stuff. Probably both!
Read Leslie's story on Forbes.com about where we're looking forward to dining out: Tasty Fall Road Trip Goals Include Stops in Aspen, Telluride, Santa Fe.
Going Mobile with Dan
Have you checked out the new-ish Going Mobile website on spokesman.com? You'll find all of our RV content there, plus a big bonus: Dan Webster's Travel stories are also posted on the site.
Go to spokeman.com/goingmobile, and find an assortment of international travel stories written by Dan, including these recent posts:
---
---