Wed., Oct. 7, 2009, 1:29 p.m.
29 Wolves Killed So Far In Idaho
Idaho Department of Fish and Game officials said a female wolf with the Phantom Hill pack was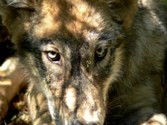 killed by a hunter, marking the 29th wolf kill since Idaho's hunting season opened this year. Senior Conservation Officer Lee Garwood said the kill occurred in the Eagle Creek drainage north of Ketchum. The wolf, which had been collared for tracking purposes, was about 2 years old. "There's at least nine or 10 wolves remaining in the Phantom Hill pack," Garwood told the Idaho Mountain Express. "It's difficult to say exactly, as we didn't see them in a group the last time we flew over the area." The pack became well known in the region last winter, when it traveled near residential neighborhoods, killing elk a few hundred yards from homes/AP. More here.
Question: Are you satisfied w/the way the wolf hunt has played out so far? Do you want hunters to harvest the maximum amount of wolves permitted? Or far less than the maximum amount?
---
---