Sat., April 3, 2010, 6:15 a.m.
Pecky: Don't Act Like A Gringo In Mexico
Pecky Cox/As The Lake Churns: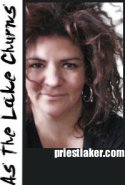 Traveling to Mexico "as a tourist" is not any more dangerous than it was 20 years ago. Your biggest concern should be vendors and real estate people trying to get "gringos" in love with a faux dream of dream land condos and quesadillas. Avoid the "border" area, yes - but unless you are a wealthy mexican with a big famous last name you are not in danger. If you go to any "Senor Froggy place", wear stupid balloons on your head and ask "any" mexican passing by to take a picture of your stupid look, well, yes you are in danger, taxi drivers, crooks, and tourist hunters will smell you!.. leave your very expensive digital at home, dress normal AVOID THE FANNY PACK FOR G'S SAKE and visit the wonders of this beautiful country
Question: Tell us about an interesting experience you've had while traveling or vacationing in Mexico?
---
---