Wed., April 21, 2010
2nd National Blog Finds Harley Brown
Harley D. Brown, a congressional candidate in the Republican primary for Idaho's 1st district,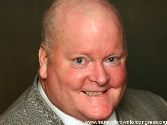 represents the best (or worst) of far-right, anti-government politics. He demands that President Obama produce his birth certificate, and professes "an intense burning desire to destroy all the works of those Progressive Liberal Politicians in Washington D.C. whom I brand as vile domestic enemies to the country," He has also apparently adapted as his campaign slogan: "Harley D. Brown -- A real man for Congress." Described as a "perennial" candidate by The Idaho Statesmen, Brown ran for mayor of Boise in 2001, and managed to scrape together 2.88% of the vote -- 964 votes total/TPM (Talking Points Memo). More here. Dan Popkey/Statesman post here.
Question: Did you know anything re: 1st Congressional District candidate Harley D. Brown before he surfaced in posts here, from national blogs?
---
---