Mon., Aug. 30, 2010
Scanner Traffic/AM — 8.30.10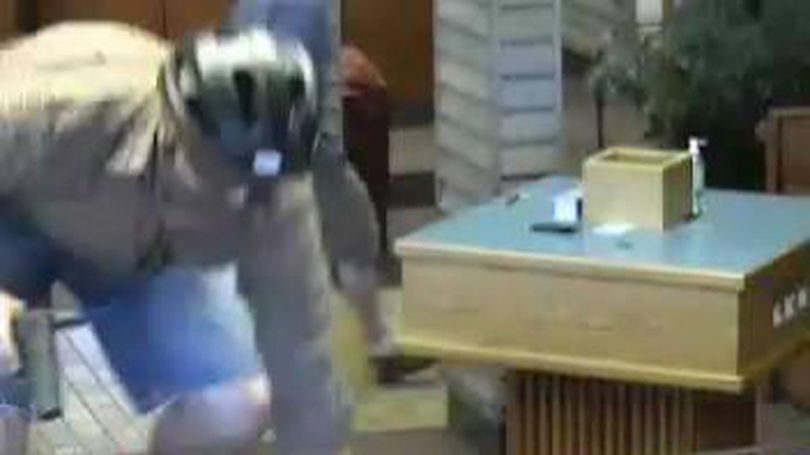 Coeur d'Alene police provided the media with a series of photos re: the suspect in the robbery of Wells Fargo Bank that occurred around 6 p.m. Friday, including the one above. KREM2 has other photos of the individual who got away on a three-speed bike here.

11:52 a.m. Caller reports that two pieces of wood fell out of an unsecured load in a trailer pulled by a pickup that entered the Ramsey Road transfer station. Also, an item from the load hit his vehicle.
11:31 a.m. A driver talking on a cell phone swerved all over road before pulling into 3120 Ironwood Place.

11:02 a.m. Resident @ 8785 Hillview/Hayden reports that someone in a green Jeep hit his mailbox and drove off.
10:57 a.m. Someone at U.S. Bank call center @ Seltice Way & old Atlas/CdA is suffering chest pains.
10:50 a.m. Hayden man has questions re: his son wrestling w/his roommate's daughter.
10:41 a.m. A suspicious female in a green Pontiac Grand Am is parked in Athol city park, along 3rd, apparently watched children.

10:19 a.m. Maintenance worker at North Idaho College reports "everybody's triple parked and nobody can get out of here" @ sewer plan overflow parking lot.

10:18 a.m. Brad has questions re: how many ducks & chickens his neighbor can have.

10:11 a.m. Dalton Gardens resident reports neighbor's 2 dogs killed some of her chickens over the weekend.

10:02 a.m. A child has his foot caught in a bicycle frame (no location given).
10:01 a.m. Student needs a jump start for his red Toyota in NIC library parking lot.
9:53 a.m. An irrigation sprinkler is spraying onto H41 @ Wyoming/Rathdrum.

9:39 a.m. Caller has spotted a Ford Torino rolled on its top off road @ Hidden Valley & Starrina roads/Hauser.
9:19 a.m. H&W worker reports that mother and two teen children -- 18 & 16 -- are missing.
9:19 a.m. Graffiti reported @ I-90 & Government Way/CdA.
9 a.m. A Subaru station wagon has rolled over @ H95 & Garwood.
8:30 a.m. Hazmat team has been called to gas spill @ Chevron station, Government Way & Kathleen/CdA.
8:17 a.m. CPD Blue is checking on transient @ H95 & Northwest Blvd underpass.
8:16 a.m. Caller reports theft of irrigation equipment off Idaho Road/Post Falls.
8:11 a.m. Caller reports that a pickup is pulling a trailer that is leaking raw sewage onto road (unknown location). Pickup & trailer has just pulled into gas station.

---
---