Fri., Jan. 1, 2010
Taking the Plunge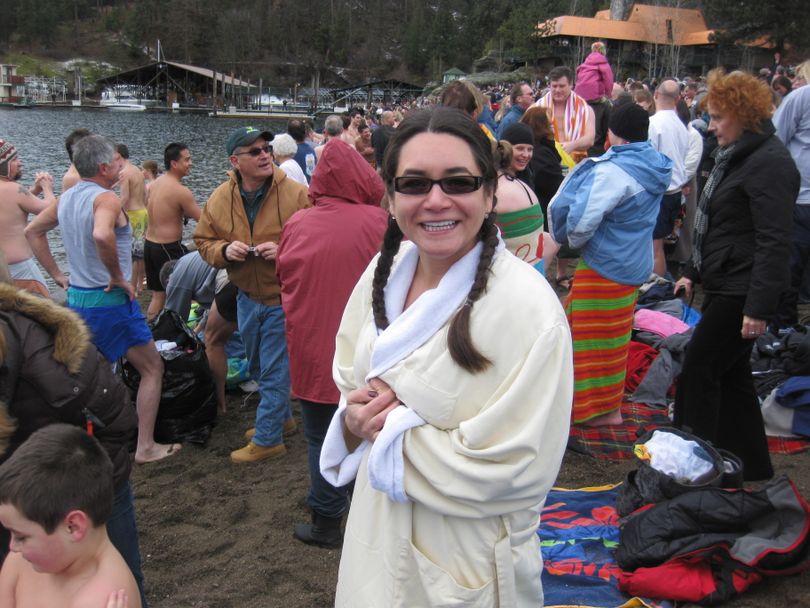 MamaJD at the Polar Bear Plunge, 1/1/10
MamaJD reports: "Returned from the Plunge and just starting to thaw out.  I did catch a glimpse of Stickman on the beach --- he was watching, not plunging.  No ThomG.  No rainbow thongs.   Just a lot of crazy people out having a good time."
No word yet from K-mama. Hope she survived!

It's an annual event for the brave, weak of mind or strong of drink. The Polar Bear Plunge can even combine all of those factors as hundreds gathered at Coeur d'Alene's Sanders Beach for a frigid dunking to begin the new year.
Clad in everything from body paint to a mermaid's outfit, about 200 or so revelers jumped into the water, reportedly at about 37 degrees which matched the 37 degree outside temperature.
"It's a frosty clean, cleansing start to 2010," said Shawn Clary, 29, of Spokane, who was about to take his first plunge.
Clary's friend, 27-year-old Dan Kreft, wasn't as enthused. "It's definitely not the dumbest thing I've every done."
About 500 family and friends gathered with fleece blankets and beach towels to await the dripping throng as it made its way out of the frigid lake. Some hearty souls actually turned the plunge into a contest by swimming the fastest to the closest no-wake buoy. More.
---
---