Tue., June 1, 2010
Dennis: Palin Has Become 'Bland'
Timothy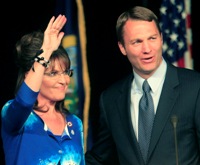 Egan wrote a piece for the NY Times recently in which he challenged "The Brand" of Sarah Palin. The piece begins with Idaho's hard-fought Primary Race of Tuesday and suggests that Sarah Palin's political muscle has atrophied. I recently wrote a post in which I questioned whether Mrs. Palin had reached a point of political muscle strain. Egan builds more on the premise, than what I presented.   Egan reflects on Gov. Palin's half-empty arena in Idaho and questions whether she even "has it" anymore...even in the reddest of states: Idaho. He tackles Palin's judgement in supporting Nikki Haley of SC - a woman mired in a sexual scandal, running for Governor. His take is interesting. He says she's misusing her "brand" and that it will, in time, fade. I think he misses something big. It's not her "brand", it's her "bland"/Dennis Mansfield. More here.
AP/Idaho Statesman Photo/Chris Butler: Sarah Palin & Vaughn Ward days before primary election.
Question: Has Sarah Palin lost her clout with red-meat conservatives?
---
---