Tue., June 1, 2010
Wolves Or Caribou?
No one can predict how the endangered Selkirk woodland caribou will fare if another animal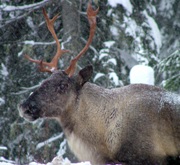 extirpated in large parts of its historic range -- the gray wolf -- moves back into their territory. In the last two or three years, wolves (likely moving south from BC or possibly east from Montana) have been documented on both the British Columbia and Idaho sides of the Selkirk Mountains near caribou recovery areas, Wakkinen said. That could be good -- or bad -- for caribou, depending on how things play out. If wolves get established, stick primarily to eating white-tailed deer, and run off the mountain lions that have been preying on the Selkirk herd, that would be good for the woodland caribou. Or wolves could might drive the mountain lions to higher elevations, even deeper into caribou strongholds. Or the wolves could start preying on the caribou themselves/Jennifer Langston, Sightline Daily. More here. (AP Photo/British Columbia Forest Service. Garry Beaudry)
Question: Should Idaho take steps to protect endangered woodland caribou from endangered wolves? Or let nature take its course?
---
---