Fri., June 25, 2010
Did Otter Snub Labrador @ Convention?
Huckleberries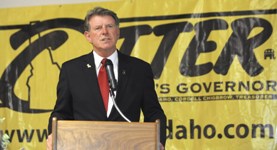 hears ... that Gov. Butch Otter may have stiffed state Rep. Raul Labrador in his lunch speech at the Idaho GOP convention in Idaho Falls today. According to my sources, Otter was supposed to bring Raul Labrador to the stage and endorse him.  But he didn't.  He didn't even mention Raul's name.  Later, state GOP executive director Jonathan Parker was observed being fairly steamed about the snub. In its report, the Associated Press mentioned that Otter had mentioned U.S. Sen. Mike Crapo and U.S. Rep. Mike Simpson, who are also facing an election challenge, and thanked them for their service to the state. But said nothing of Labrador. You can read that report here. (AP/Post Register Photo, at Republican state convention: Monte LaOrange)
Question: What do you make of Butch Otter's failure to mention Labrador in a luncheon speech calling for state party unity?
---
---