Sat., June 26, 2010
Spencer, Ron Paulers Control Idaho R's?
One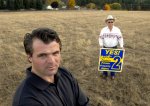 conservative delegate said that only Ada and Twin Falls counties brought with them to Idaho Falls members of the old-guard Republican establishment. "Other than those two counties, I'd say conservatives have been successful getting their (delegates) here without a fight," said Larry Spencer, from Bonner County in northern Idaho. Spencer went further: U.S. Rep. Mike Simpson, due to speak Saturday, "is not much of a Republican," he said. Simpson has fallen out with hard-core conservatives over his stances on the 2008 Wall Street bailout - he backed it - and a wilderness plan for central Idaho/John Miller, Associated Press. More here. (2006 SR File Photo: Jesse Tinsley: Larry Spencer, left, and Jess Goetz)

Question: What will become of moderate Republicans, if they don't bow to the Ron Paulers, Tea Partiers, and Libertarians who now seem to control the state GOP?
---
---