Mon., March 29, 2010
MGR Queries Minnick Vietnam Service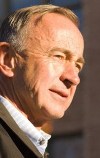 When does Idaho Congressman Walt Minnick plan to quit lying about his military service?  It's been a week since it was first pointed out that Walt had been misrepresenting his service on his campaign Facebook page and, as shown below, still no change.  Today that lie was repeated nationally by KIDO radio's Austin Hill. Walt Minnick never served in Vietnam.  In fact as pointed out here, he tried desperately to avoid being drafted and did so by joining the Army Reserve.  He said so in his own words in The Native Home of Hope: People & the Northern Rockies, published in 1986/MountainGoat Report. More here. And: Original here.
Minnick spokesman John Foster to MountainGoat: "Please correct your post and title immediately. Walt has never lied or misled anyone about his military service. While not permanently stationed in Vietnam, he did travel, work and serve there as part of his work in the Pentagon to improve the country's economy. (He also spent time in Afghanistan while working on drug issues.) Attacking someone's military service is the worst kind of attack, particularly when it is done by a fellow veteran."
Question: Would it matter to you if Congressman Walt Minnick misrepresented his military service, as MountainGoat Report claims?
---
---