Tue., March 30, 2010, 1:32 p.m.
Terry: Why No Invite From Commish?
We aren't taking it personally, but we didn't receive our invitation by the County Commissioners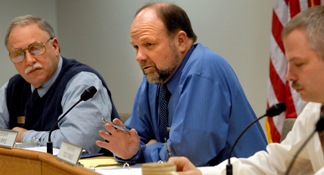 "to the County's development and construction communities" to attend a "Community Development Forum" on Monday evening, April 5th, at 5 p.m. Given the lack or progress on the Comprehensive Plan, the failure to address dysfunctional hearing procedures, and major functional failings in the site disturbance and flood control ordinances, we'd definitely be interested in "this important opportunity"  to "share and hear the constructive thoughts and ideas of others regarding the building process here in Kootenai County." We're probably not the target audience, but the Commissioners promise "an open atmosphere for the community to openly share," so maybe we'll attend anyway/Terry Harris, KEA Blog. More here. (SR File Photo: Jesse Tinsley)
Question (from Terry @ KEA Blog): We didn't get our invitation. Did you?
---
---