Tue., May 18, 2010
DFO's 5 Questions For Raul Labrador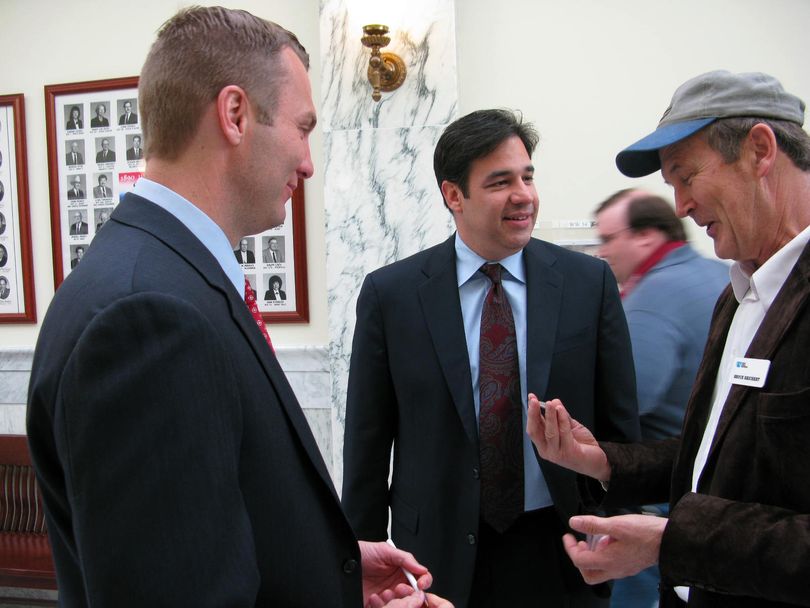 Vaughn Ward, left, and Raul Labrador, center, join Bruce Reichert of Idaho Public Television for a coin toss before the pair's statewide debate last week. The two men and candidate Harley Brown will meet in Post Falls tonight for a debate before the Pachyderm Club. (SR Photo/Betsy Russell)
DFO: In one interview I read, the writer (Dan Popkey) compared you to Bill Sali w/a smile? Are your politics very similar to Sali's?
Raul Labrador: I'm very conservative. I've been a solid conservative vote in Idaho Legislature. I always have a smile. I get along with people. I'm always cordial friendly. I treat people with respect, whether I agree with them or disagree with them.
DFO: I've kidded w/your spokesman Dennis Mansfield that you must have someone embedded in the Vaughn Ward campaign to mess things up for your opponent. How can you explain the series missteps by the other guy?
Labrador: I don't think I can. It's really disappointing to see a young man who has served his country honorably ... to see there may be problems of credibility and maybe of honesty. More below
DFO: You were down by 16 to 18 points recently, if you believe the polls. Of course, that was before the Ward meltdown of the last 2 weeks. Where do you think you stand today?
Labrador: We're well on our way to victory. But I've felt that way since December. Of the two candidates, I've worked for the general principles of Republican Party and have a record of doing that. This is about beating Walt Minnick in November. It's becoming evident to party and public that I have the credibility and experience to take on Minnick.
DFO: How can you explain why so many mainstream Republicans jumped on Ward's bandwagon?
Labrador: There's always been a concern that I am so independent that it'll be hard to tell me what to do. I think we want someone in Congress like that. We want someone to represent Idahoans not mainstream Republicans or the Republican Party.
DFO: Your fund-raising to date has been deemed fairly light. Do you have enough of a warchest and future backing to take on Minnick, who does have solid finances?
Labrador: What you will see nationally and locally ... people will rally behind my candidacy. I'm the only one who can beat Minnick. If Republicans both nationally and locally want to take back Congress, they have to take this seat back.
DFO: Tea Party? Are you in or out with them?
Labrador: On one blog a bunch of Vaughn Ward supporters started sending e-mails that said they were upset (w/the Tea Party Boise endorsement). But the Tea Party wasn't getting that many e-mails. Everyone realizes that I'm a person of integrity and I can carry banner for all of them. I've met a lot of Tea Party. They're not right-wing fringe. Just good people who want Republican Party to go back to its principles.
DFO: What impact will Sarah Palin's appearance for Vaughn Ward in Boise (which was announced as I was conducting this interview) have in the closing days?
Labrador: She appeared for John McCain in Arizona. It didn't help him much. You'll have a big crowd in Boise because people are excited about Sarah Palin. But they'll be there to see Palin not Ward. I think Ward and McCain are cut from same cloth.
---
---