Sat., May 22, 2010
Poll: Ward, Labrador In Dead Heat
Marine reservist Vaughn Ward and state Rep. Raul Labrador are in a statistical tie in the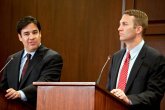 Republican primary race to represent western Idaho in Congress, says an Idaho Statesman/KBOI TV Channel 2 poll. The snapshot of the electorate, taken a week before the vote, shows Ward backed by 31 percent of voters and Labrador by 28 percent, putting the race within the plus or minus 5 percent margin for error. Undecideds topped each candidate with 37 percent. Harley Brown had 4 percent. Ward had big leads in fundraising and advertising, but Labrador has gained momentum in recent weeks as Ward suffered a series of setbacks culminating in the resignation of his campaign manager last week/Dan Popkey, Idaho Statesman.  More here.
DFO: It appears Labrador has the momentum, erasing an 18-point deficit from the last poll of substance,  and will benefit from cross-over voting. My guess? Labrador's going to win.
Question: Which of these two candidates would have the best chance against Walt Minnick?
---
---