Tue., May 25, 2010, 11:34 a.m.
KREM: No Resolution Yet In Flag Flap
Veterans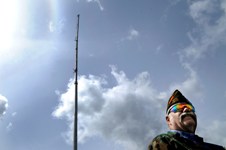 in Kellogg say they are still no closer to ending a fight over a Veterans' memorial there, even after a city council meeting on Monday night. Those veterans are upset after the city stopped flying the American flag over the memorial and then moved both. Those vets were hoping to hear a decision one way or the other about moving the small memorial about 100 yards. Those veterans say 100 yards is a very big deal. One veteran says he was happy with the little plaque because of what it stands for and he says what it stands for is bigger than the vets.The plaque dedicated a piece of land as Memorial Park/KREM.com. More here. (SR File Photo/Kathy Plonka: Vietnam Veteran Joe Wallace stands near the empty flagpole in Memorial Park in Kellogg on Friday)
Question: Are you surprised this has dragged on as long as it has -- and that the council didn't make a decision last night?
---
---