Tue., Nov. 16, 2010
Should Politicians Be Military Vets?
It looks like it's starting off as a slow week in submarine news, so here's an article from Politico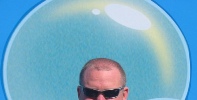 saying that, for the first time since 1944, it's likely that neither major party nominee for President will have military experience. I'd disagree with that premise a little bit -- by 2012, President Obama, the likely Democratic nominee, will have almost four years of experience as Commander in Chief during wartime -- but it's definitely an indication that, as the post-draft generation continues taking the reins of power, there are fewer and fewer politicians who have worn the uniform/Bubblehead, The Stupid Shall Be Punished. More here.
Question: Would you prefer that presidential candidates are military veterans?
---
---