Wed., Nov. 17, 2010, 10:20 a.m.
GOP Solon Fights Full-Body Scans
A GOP lawmaker said Tuesday the full-body scanners now employed by the Transportation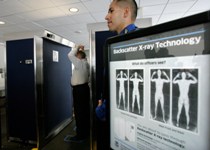 Security Administration (TSA) violate the Fourth Amendment to the constitution, which protects against "unreasonable searches and seizures." During a one-minute speech on the House floor, Rep. Ted Poe (Texas) also blasted former Homeland Security Secretary Michael Chertoff as a "political hack" and accused him of profiting from the proliferation of the devices. "There is no evidence these new body scanners make us more secure. But there is evidence that former Homeland Security Chief Michael Chertoff made money hawking these full body scanners," Poe said/Elise Viebeck, The Hill's Blog Briefing Room. More here. (AP photo)
Question: I wish this lawmaker success. I consider full-body scanners at airports to be an incredible violation of our 4th Amendment rights. How about you?
---
---