Wed., Oct. 6, 2010
Did Sheriff Joe Endorse Labrador?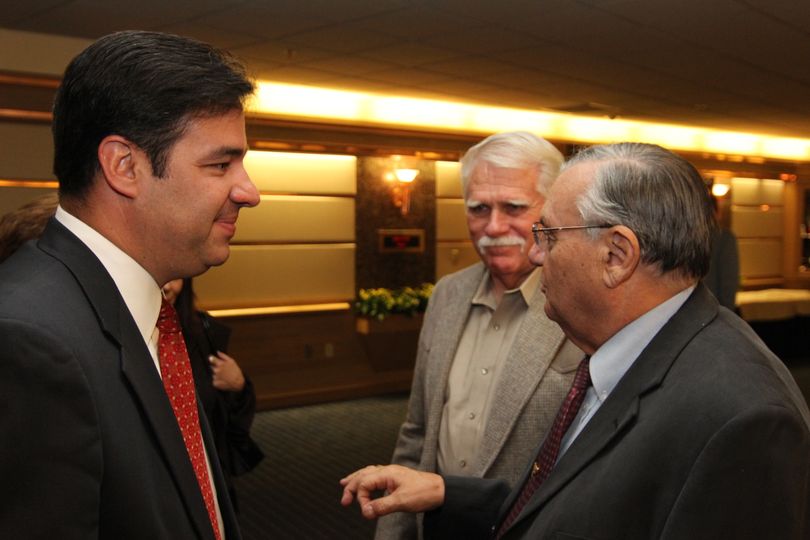 Republican Raul Labrador with Maricopa County, Ariz., Sheriff Joe Arpaio at the Women in Red banquet Monday night. (Courtesy photo for Huckleberries Online)

Huckleberries has been told by 2 sources who talked with Sheriff Joe Arpaio at the Republican Women's breakfast Tuesday morning that the sheriff's endorsement of Republican Raul Labrador was less than enthusiastic. Seems he was surprised when someone presented him with the Spokesman-Review that included the story headlined: "Arizona lawman endorses Labrador." After viewing the article, Arpaio said "Did I endorse this guy?" According to my sources, Arpaio then commented that he didn't expect Labrador to win. On his Web site, Labrador touted the endorsement and the quote from Arpaio: "Congress needs a conservative Republican who understands immigration law; Raul Labrador will help America solve the problem of illegal immigration." So, which is it? Did Arpaio endorse Labrador or not? Here's the exact exchange between Arpaio and SReporter Alison Boggs from press conference:
Q: I notice Mr. Labrador's here. Are you making an endorsement in the First Congressional District race?
A: I gotta endorse him. Look who's running against him. The guy that I worked with when he was at the White House, I had big battles with Minnick. I didn't know it was the same guy, then I find out it is the same guy, under Nixon.
(Sheriff Joe worked for 25 years at the U.S. Drug Enforcement Agency before becoming sheriff in Maricopa County.)
Q: So are you going to be doing that tonight?
A: Doing what?
Q: An official endorsement.
A: I support him. I'm doing it here, I guess. I don't know what I'm doing. But yeah, he's a good guy. Nice wife. It's always the spouse you gotta look at, never mind who's running. That's why I get re-elected. I've got a nice wife.
Question: Sounds like an endorsement to me albeit not a ringing one. What do you think?
---
---