Wed., Oct. 6, 2010, 10:15 a.m.
Officials: Ignore Westboro Protesters
Do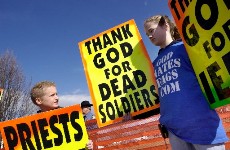 not confront them. That's the best way to respond to protesters from Westboro Baptist Church, say human rights leader Tony Stewart and Coeur d'Alene School District Superintendent Hazel Bauman. "We abhor the message promulgated by this group," Bauman wrote Tuesday, in an e-mail sent to some of her key staff members. "We will not engage with them and will do all we can to prevent our students from engaging with them as this is their ploy. We do not wish to play into their hands or even dignify this bigotry with a response"/Maureen Dolan, Coeur d'Alene Press. More here. (AP file photo)

Question: Do you agree with Tony Stewart & Hazel Bauman that the best way to deal with the Westboro Baptist Church protesters is to ignore them?
---
---