Thu., Oct. 7, 2010
Archives: Is NIC Board Next Target?
I wrote this on Jan. 8: "As I read between the lines re: the stepped up attacks on North Idaho College leadership by the usual suspects and the Coeur d'Alene Press, I had one of those "aha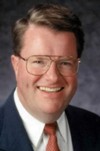 moments." Can the increasing hysteria about NIC leadership, and especially Trustee Christie Wood, have anything to do with the fact that Christie's term expires this year. She'll have to seek re-election in November, if she wants to continue serving the college." The question I offered at the time was: "Question: Is the college Board of Trustees the next focus of attack by local partisans who came thisclose to winning two seats on the Coeur d'Alene City Council in November?" About the same time, in the Coeur d'Alene Press, Ron Nilson and District 5 legislators (Bob Nonini, Frank Henderson, and Jim Hammond) were haranguing the board's decision to dump Robert Ketchum as workforce training center director. (Photo: NIC trustee candidate Robert Ketchum)

Question: What do you think is going on with the attempt by Ron Nilson and Robert Ketchum to win two seats on the North Idaho Board of Trustees?
---
---