Thu., Oct. 7, 2010
'Fire Pelosi' Tour Backs Labrador
The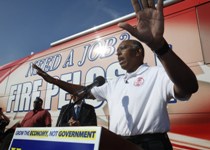 'Fire Pelosi' bus tour will be in Caldwell this Saturday, September 9, 2010 in support of Raul Labrador's campaign to take the First District Congressional seat from Walt Minnick.  The national GOP tour bus is meant to boost GOP congressional candidates by focusing on House Speaker Nancy Pelosi.  Labrador will attend the Caldwell event that will run from 10:30 am to 12:00 noon at the Canyon County GOP Headquarters at 117 South 9th Street in Caldwell/Stan McKee, Ada County Elections 2010 examiner. More here.
Cutline: Republican National Committee Chairman Michael Steele talks with supporters during a rally in Stockton, Calif., Wednesday. Steele visited California's Central Valley as part of the RNC's national " Fire  Pelosi"  bus  tour. (AP Photo/Rich Pedroncelli)
Question: How much do you think the 'Fire Pelosi' bus tour will help Raul Labrador?
---
---