Fri., Oct. 8, 2010
NW: Where Have All The Hippies Gone?
In a liberal oasis like Missoula, the question "What is a hippie?" should be as easy to answer as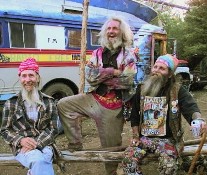 "Got yer elk yet?" Missoula's always been known, especially to other, more conservative parts of the state, i.e., everywhere else, as Montana's hippie enclave, a granola gathering ground for unemployed longhairs and sandal-clad stoners who reek of patchouli and bong water. But it's not so easy, especially viewed through the lens of history and socio-political significance, to come up with a pat answer. "What Is a Hippie?" was the title of an entertaining, free-wheeling panel discussion on the U of M campus last night/Bob Wire, New West. More here.
Question: In 25 words or less, can you answer the question: 'What is a hippie'?
---
---