Thu., Oct. 14, 2010
English Outraises Hayes In Clerk Race
Democrat Dan English has outraised Republican Cliff Hayes in an attempt to win re-election as Kootenai County clerk. Campaign finance reports released this week show that English has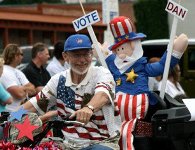 raised $4752 for the year and loaned his campaign $750, while Hayes has raised $3615, including a $1200 loan he has made to his campaign. Major contributions to English's campaign in the last reporting period have come from Nancy McAnally ($500), L.C. Spurgeon (300), Kootenai Democratic Women's Association ($250), Kenneth Howard ($200), Larry Belmont ($150), and Mary Lou Reed and Susan Nipp ($100 each). John Austin is his campaign treasurer. Full report here. Hayes contributions include: Committee to Elect Frank Henderson ($200), Wayne Gilman ($150), and Kathy Sims ($100.) His treasurer is Larry Gilman. Full report here.

Coroner: Democrat Jody DeLuca Hissong has raised $9120 for the year and spent $5164 through Oct. 12. In the last reporting period, she has received 20 contributions of $100 or more, including $300 from L.C. Spurgeon and $250. Her campaign treasurer is Dave Holinka. Full report here. Republican Deb Wilkie has raised $4040 and spent $3579. She has received $450 from Coroner Robert West, $125 from Bill & Geri Douglas, and loaned herself $1310. Her treasurer is Beth Clemons. Full report here.
Commissioner: Jai Nelson has raised $14,409 for the year and spent $7904. Her main contribution during the last filing period has been a $7000 personal loan. Mary Brown is her treasurer. Full report here. Write-in candidate Rick Currie has raised $5205 for the year and spent $4893. However, he has raised only $550 and spent $425 for the filing period since he lost the GOPrimary election to Nelson. Richard Fedash Sr. made a $500 contibution to his campaign this period. Jim Deffenbaugh is his treasurer. Full report here.

---
---